Blazing CodeXL 2.2 is here!
A new release of the CodeXL open-source developer tool is out!
Here's the hot new stuff in this release:
New platforms support
Support Linux systems installed with amdgpu-pro driver.
Support for AMD Radeon RX 480 and RX 460 GPUs
Support Ubuntu 16.04
Support Windows 10 Anniversary Update
Frame Analysis
Capturing a trace of Vulkan® frames for games and apps running on Linux®.
Capturing the trace of multiple frames in a single capture operation.
UI improvements in the frame timeline view.
Capture 'CPU only' and 'GPU only' trace
Cross-platform capture – server and profiled game running on Linux while the client runs on Windows® and vice versa.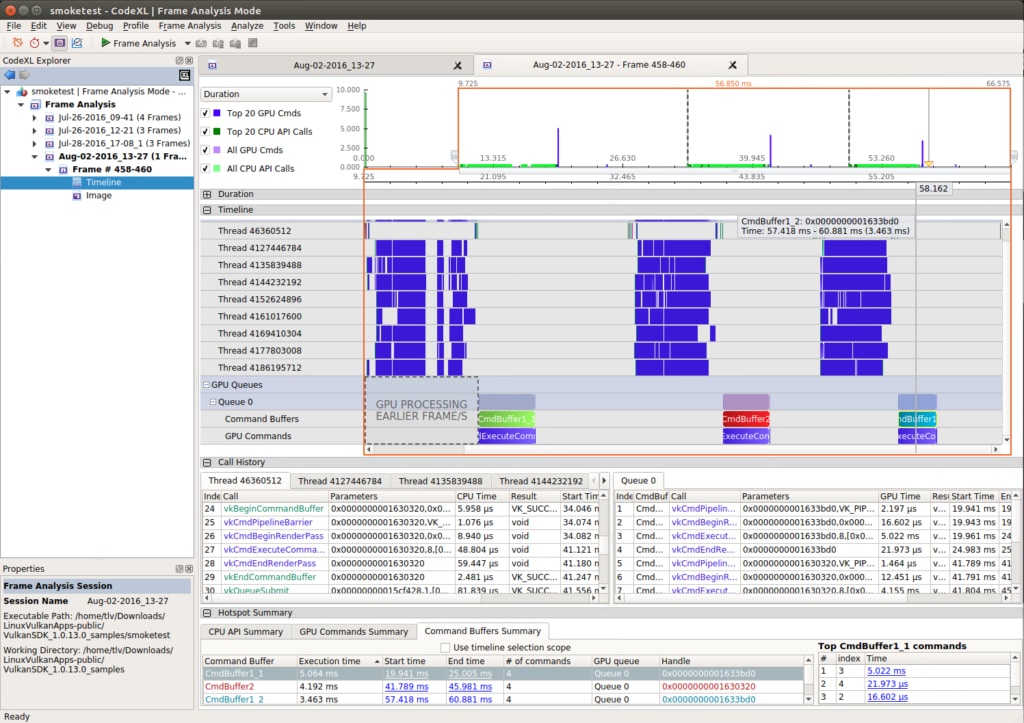 CPU Profiling
New DB-based session data store allowing for quicker session post-processing and display of longer sessions
Support for the new A9, A6 and E2 series of the AMD 7th generation APUs.
Debug Mode
Display referenced structures/values when viewing pointer variables
Support OpenGL-OpenCL interop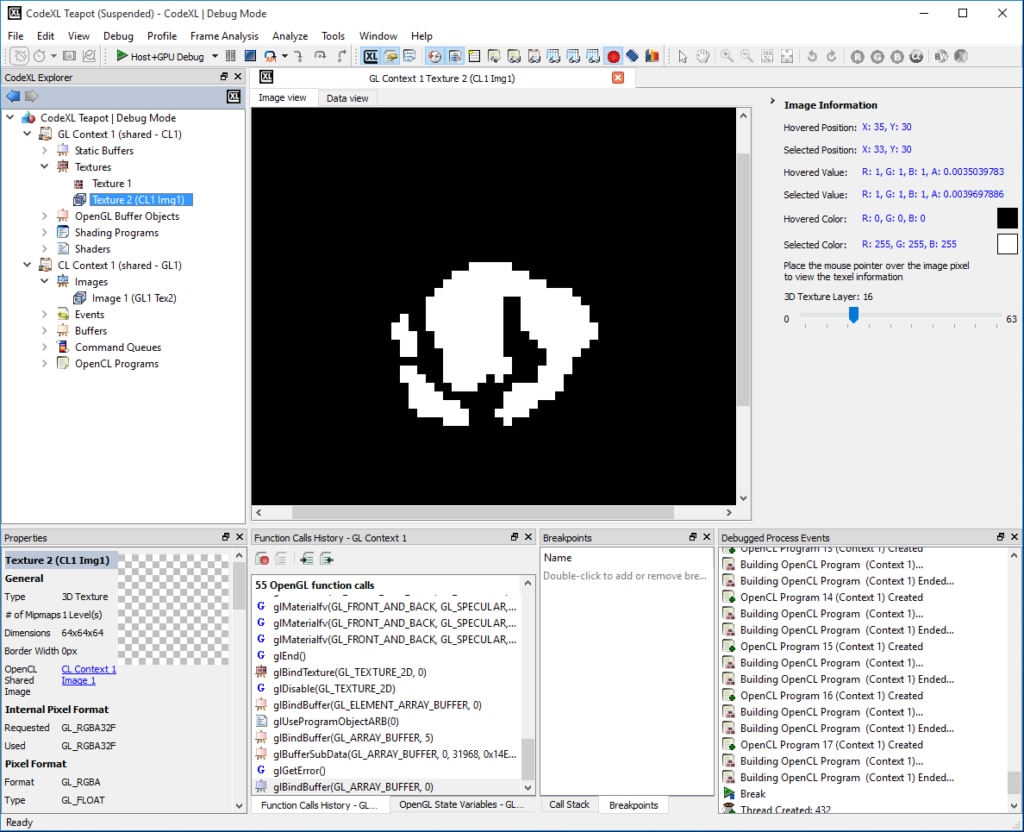 Analyze Mode
Static analysis of OpenCL kernels, OpenGL and Vulkan GLSL shaders on Linux systems installed with amdgpu-pro driver.
Power Profiling
Module level attribution (available in the Command Line tool on Windows only)
Source Control and Build Environment
Remove git sub-module. It was a pain to work with.
Let the build succeed even if JDK and ROCm are not installed
Build compatible with both gcc 4.x on Red Hat 6 and gcc 5.x on Ubuntu 16.04
UI enhancements
The CodeXL toolbar's Play button text reflects CodeXL's mode and action
The total number of frames captured in the session are displayed in the session node of the Explorer tree
Frame Analysis navigation bar displays a graphic indication of the precise location in the frame timeline when moving the mouse over the focus area in the timeline chart
Many more improvements
Bug Fixes
Developers and users are submitting issues to the CodeXL issues page and we're responding and fixing them. As with every release, we included many bug fixes. Check the release notes for a complete list.
Download and Support
CodeXL is available for download at gpuopen.com or directly from our GitHub repository here: CodeXL 2.2
Please use our CodeXL issues page to provide feedback about CodeXL and for support requests.
Enjoy the release!
– Doron Ofek
OpenCL is a trademark of Apple Inc. used by permission by Khronos. OpenGL is a registered trademark of Silicon Graphics, Inc. in the United States and/or other countries worldwide. Microsoft, Windows, DirectX and Visual Studio are registered trademarks of Microsoft Corporation in the United States and/or other jurisdictions. Vulkan is a registered trademark of Khronos Group Inc. in the United States and/or other jurisdictions. Linux is the registered trademark of Linus Torvalds in the United States and/or other jurisdictions.
Doron Ofek is a Senior Manager at AMD Developer Tools group and the development lead for the CodeXL tool suite since its first release in 2012. Doron has over 20 year of development experience. Prior to joining AMD Doron worked on SW projects for the Defense, Print, and Semi-conductor industries. Out of office he enjoys hiking, cooking, Tai-Chi and Pilates. Links to third party sites, and references to third party trademarks, are provided for convenience and illustrative purposes only. Unless explicitly stated, AMD is not responsible for the contents of such links, and no third party endorsement of AMD or any of its products is implied.