CodeXL 2.1 is out and Searing hot with Vulkan
A new CodeXL release is out!
For the first time the AMD Developer Tools group worked on this release on the CodeXL GitHub public repository, so the global community had access to all of the source code modifications as the work on this release progressed. Did you follow us? Come join the fun of CodeXL development on the CodeXL GitHub repo.
Here are the new goodies:
Frame Analysis Mode
CodeXL now supports capturing a trace of Vulkan™ frames for games and apps running on Microsoft Windows®.
We've also added UI enhancements to detail Microsoft DirectX® 12 command lists and Vulkan command buffers:
The command lists/buffers are displayed in the timeline chart, separated per queue and immediately next to the individual commands they consist of.
The Summary pane contains a table of command lists/buffers, complete with the execution time of each command list/buffer and other details.
You can configure CodeXL to capture a trace of multiple frames in a single capture operation.
Moving the mouse over the timeline chart is reflected in a corresponding indication on the navigation ribbon.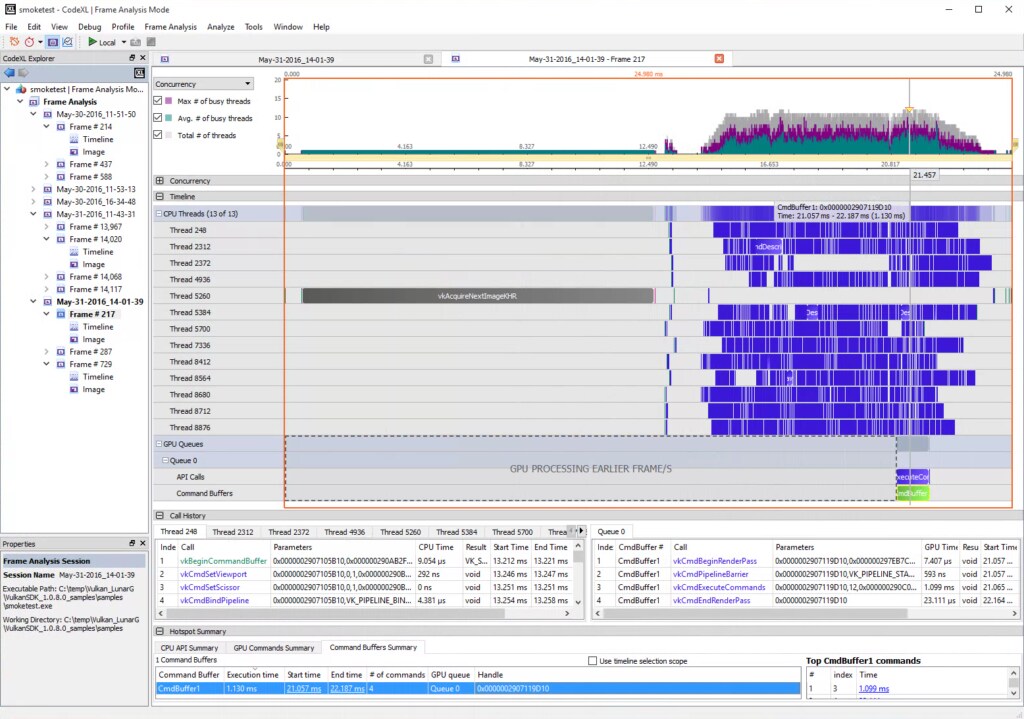 Debug Mode
CodeXL now displays the details and content of OpenGL® and OpenCL™ objects while debugging C++ host code on Linux®.
Analyze Mode
We improved the UI by removing the Source Files sub-tree from the CodeXL explorer. Shader files are now located in the program or folder which provides the context in which they will be built.
Installer
The installer now supports non-English Windows versions (e.g. German, French, etc.)
UI enhancements
New go-to line number (CTRL+G) feature in the source code viewer/editor of all CodeXL modes.
Bug Fixes
Developers and users are submitting issues to the CodeXL issues page and we're responding and fixing them. As with every release, we included many bug fixes. Check the release notes for a complete list.
Download and Support
CodeXL is available for download at gpuopen.com or directly from our GitHub repository here: CodeXL 2.1
Please use our CodeXL issues page to provide feedback about CodeXL and for support requests.
Enjoy the release!
– Doron Ofek
OpenCL is a trademark of Apple Inc. used by permission by Khronos. OpenGL is a registered trademark of Silicon Graphics, Inc. in the United States and/or other countries worldwide. Microsoft, Windows, DirectX and Visual Studio are registered trademarks of Microsoft Corporation in the United States and/or other jurisdictions. Vulkan is a registered trademark of Khronos Group Inc. in the United States and/or other jurisdictions. Linux is the registered trademark of Linus Torvalds in the United States and/or other jurisdictions.
Doron Ofek is a Senior Manager at AMD Developer Tools group and the development lead for the CodeXL tool suite since its first release in 2012. Doron has over 20 year of development experience. Prior to joining AMD Doron worked on SW projects for the Defense, Print, and Semi-conductor industries. Out of office he enjoys hiking, cooking, Tai-Chi and Pilates. Links to third party sites, and references to third party trademarks, are provided for convenience and illustrative purposes only. Unless explicitly stated, AMD is not responsible for the contents of such links, and no third party endorsement of AMD or any of its products is implied.