Extending Support for In-Place Transpose to Compute FFTs Without Using Extra Memory
Many fast Fourier transform (FFT) algorithms implement an intermediate transpose stage. Traditionally, the transpositions have used an out-of-place approach in the clFFT library – that is, the library allocates a temporary buffer to store the transposed result. Recent efforts sought to eliminate this temporary buffer by employing in-place transpose [1, 2]. I am excited to share that we have extended the in-place transpose from a 1:2 dimensional ratio to any mix of radix-2, radix-3 and radix-5 ratios.
Why Would You Care?
The extension increases the vector sizes that clFFT supports without allocating a temporary buffer, moving from strictly powers of twos to any mix of radix of 2, 3 and 5. For example, in the range from 2 GB to the max single allocation size on a FirePro S9170 card of 25,502,069,760 byte, the number of supported sizes for a single-precision complex-to-complex FFT expands from 4 to 500. Moreover, the maximum size increased from 2,147,483,648 (or 16 GB of single precision complex elements) to 3,185,049,600 (or 25,480,396,800 byte of single precision complex elements). The largest possible 1D FFT size is therefore very close to the largest single-allocation limit, using nearly 75% of total device memory.
The graph below depicts the 1D FFT performance using the in-place transpose on the FirePro S9170 card with driver version 15.302 [4]. The white dot denotes the maximum 1D FFT that clFFT supports without using in-place transpose on the same system. The orange dot indicates the maximum 1D FFT I was able to run with cuFFT on a K40-based system [5].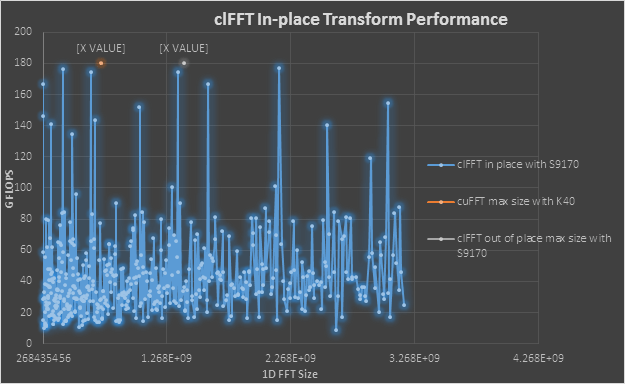 How to Enable the In-Place Transpose
To maximize global memory utilization with clFFT, make sure the environment variable CLFFT_REQUEST_LIB_NOMEMALLOC is set to 1. Since the algorithm with in-place transpose is slower than the one with out-of-place transpose, users should decide whether memory utilization is more important than speed. They should also ensure that the buffer size exceeds neither the system memory size nor the GPU's maximum memory allocation size.
I'm unsure whether any other GPU-based FFT library can guarantee that it entirely avoid temporary buffer allocation (please leave a comment below if you know of one). The cuFFT user guide [3], for example, does state the need for a temporary internal buffer. When running a 6GB 1D FFT test using cuFFT on a K40-based system with 12 GB of global memory [5], cufftPlanMany() returns error code 2 ( CUFFT_ALLOC_FAILED ). To summarize, clFFT may have just introduced a distinguishing feature that cuFFT lacks, applying an FFT computation to a buffer that is almost as large as a GPU device can allocate.
References:
[1] Thangaraj, Santanu. "Calculating Large FFTs in Memory-Constrained Systems". N.P., 2016.
[2] Natarajan, Bragadeesh. "Computing Very Large FFTs on AMD GPUs". N.P., 2016.
[3] Nvidia, "CUDA Toolkit 7.5".
[4] System setup using Intel E5-2630 v2 CPU with FirePro S9170 and 256 GB of RAM, running OpenSuse 13.1 with AMD driver version 15.302
[5] System setup using Intel i7-2600K CPU with Tesla K40c and 16 GB of RAM, running Ubuntu 14.04 with Nvidia driver version 352.79 and Cuda Toolkit 7.5
Timmy Liu is a Software Development Engineer at AMD. Links to third party sites, and references to third party trademarks, are provided for convenience and illustrative purposes only. Unless explicitly stated, AMD is not responsible for the contents of such links, and no third party endorsement of AMD or any of its products is implied.