OCAT 1.3
asynchronous, DirectX, DirectX12, DX11, DX12, OCAT, open source, optimization, performance, profiling, Vulkan
OCAT is our open source capture and analytics tool, designed to help game developers and performance analysts dig into the details of how the GPU presents finished frames to the display.
It runs in parallel with your game, sampling available DXGI presentation metrics (by way of Intel's excellent PresentMon library), to give you an accurate view of frame timing, pacing and delivery that's as lightweight and unintrusive as possible. Combined with an optional runtime overlay that lets you view the data in real-time as the game is running, OCAT is primarily for performance analysis, helping to discover and fix issues in frame pacing.
Changes in 1.3
The biggest change is the streamlined user interface. When you develop any software, it's easy to forget that regular users might not be so in tune with how it works, and so you can tend to make it less approachable to others over time.
So to help stop new users from finding OCAT too complicated to use and configure, we took a step back and reworked the UI to make it more intuitive on first use, less complicated, and therefore more accessible than ever before.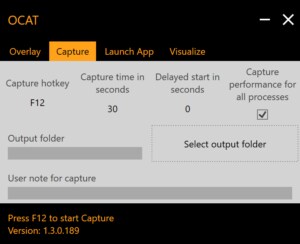 Game and application compatibility is also better than ever, stemming from improvements to how capture works and how the overlay is added to any running game or app, plus a new blacklist system. OCAT now lets you maintain your own blacklist — used to tell OCAT to not enable the overlay for a given game or app — alongside one that OCAT provides.
Splitting the lists lets us ship new versions of OCAT without removing games or apps you might have added yourself, and we made sure the default list contained everything we knew to be problematic.
The last of the bigger changes is support for launching Steam games via their Steam AppId. That lets OCAT work with a great many more Steam games, allowing it to better work with how Steam itself launches games so that OCAT's explicit overlay hook can work in more cases.
You should therefore have less trouble using OCAT to profile a game or application than in any prior release. Combined with the much improved UI that's friendlier to new and experienced OCAT users alike and 1.3 is easily our best release yet.
More information
OCAT is developed out in the open on GitHub (note that most of the development activity between releases takes place on the dev branch!), the documentation is visible at ReadTheDocs, we're issue-driven as much as possible and welcome contributions in any form, from anyone that's interested in helping improve it. Even if that's just a bug or compatibility report where OCAT doesn't work, please get involved!
Getting OCAT
Get the 1.3 release installer binary for Windows from the GitHub releases page!.
Rys Sommefeldt looks after the Game Engineering group in Europe, which is part of the Radeon Technologies Group at AMD. Links to third party sites are provided for convenience and unless explicitly stated, AMD is not responsible for the contents of such linked sites and no endorsement is implied.