Performance Tweets Series: Root signature & descriptor sets
Before Direct3D® 12 and Vulkan™, resources were bound to shaders through a "slot" system. Some of you might remember when hardware did have only very few fixed-function units which required you to bind a texture to the first unit and a light map to the second unit. The binding system in OpenGL® and Direct3D until version 11 shows this heritage. In both APIs, there's a set of slots where you bind resource to, even though the hardware has evolved away from this model.
Before we go into the new binding model we'll take a look at how a modern GCN based GPU identifies a resource. Let's say we want to access a texture – how is this passed on to the texture sampling instruction? If we look at the GCN ISA documentation, we'll find this paragraph:
All vector memory operations use an image resource constant (T#) that is a 128- or 256-bit value in SGPRs. This constant is sent to the texture cache when the instruction is executed. This constant defines the address, data format, and characteristics of the surface in memory.
So what used to be a slot is now a couple of registers, which are passed on to the texture sampling instruction. Even more interesting, the next sentence reads:
Typically, these constants are fetched from memory
This means that all we need to describe a texture is a small descriptor (128 or 256 bits) which can be placed anywhere in memory. As long as it can be loaded into registers, we're good to go. If we read the rest of the documentation, we'll notice that the same pattern is also used for all other resource types. In fact, there's no "slot" to be found when it comes to resource access – instead, everything goes through a texture descriptor (or T#), a sampler descriptor (S#), or a constant (V#). With Direct3D 12 and Vulkan, those descriptors are finally exposed directly as what they are – some GPU memory.
On GCN hardware, there is a special set of registers — called "user registers" — available to store descriptors (and constants – more on this below.) The number of these registers available for descriptor storage varies depending on the shader stage, PSO and drivers, but in general it's roughly a dozen. Each register can be pre-loaded with a descriptor, a constant, or a pointer. When the register space overflows, the driver emulates a larger table using a spill space in memory; this has both a CPU cost (managing the spill table – incurred every time the region that's spilled changes) and a GPU cost (extra pointer indirection). As a result, if you have blocks of descriptors or constants that change in unison it's often better to store them separately and use a pointer rather than causing them to spill.
Vulkan resource binding
In Vulkan, the binding model can be explained as follows. Descriptors are put into descriptor sets, and you bind one or more descriptor sets. Inside a descriptor set, you can freely mix all descriptor types. Additionally, there are "push constants" which are constants that you can pre-load into registers.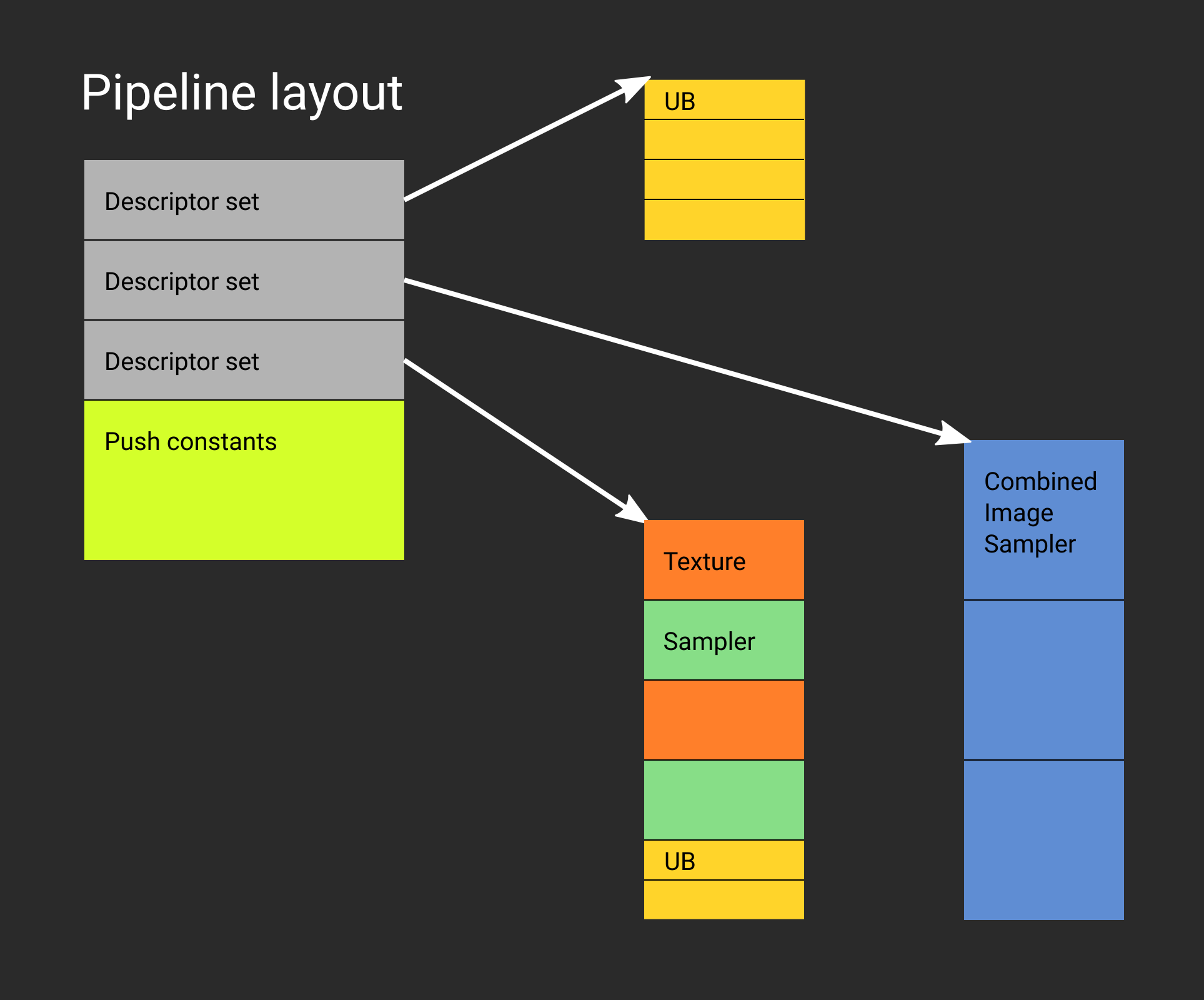 Here's an example of what this looks like. The block on the left is implicit in the API – you can't see what is currently bound – and the blocks on the right-hand side are the individual descriptor sets. As we learned above, the descriptor sets are plain memory, so all advice regarding packing, cache hits and so on applies here as well. Put descriptors you're going to use close together, try to load consecutive entries if possible, and avoid large jumps when accessing memory addresses. If you know in advance what sampler you're going to use your texture with, you can optimize your descriptor set by fusing them together into a "combined image sampler" which puts the sampler and the texture close together.
You might be wondering about the dynamic buffer descriptors: those provide access to a buffer and an offset. They are basically a fused buffer descriptor with a plain constant. Those constants are going to use up registers therefore many dynamic buffers can become a problem. There are two ways you can work around this. If the data you're indexing into has a uniform stride, just bind those buffers and index using a single constant into them (or multiple constants stored in another buffer.) If the stride is not fixed, but you know the offsets, you can create a descriptor array and index into that to jump to the target location. Again, make sure the index you use in the first place is a single constant or from another buffer.
Direct3D resource binding
Direct3D exposes implicit binding through a root signature, which is managed by the runtime. This maps pretty much directly on the user registers described above. There's however a couple of limitations in the API: you can't store sampler descriptors with other descriptors in a table. Additionally, in the root signature, you can only have pointers to descriptor tables, root signatures, and buffer pointers. You can't put a texture or a sampler descriptor into the root signature, although one alternative may be to specify the sampler descriptors at compile time.
There's also no fused texture descriptor/sampler descriptor; those have to be stored on separate descriptor heaps instead.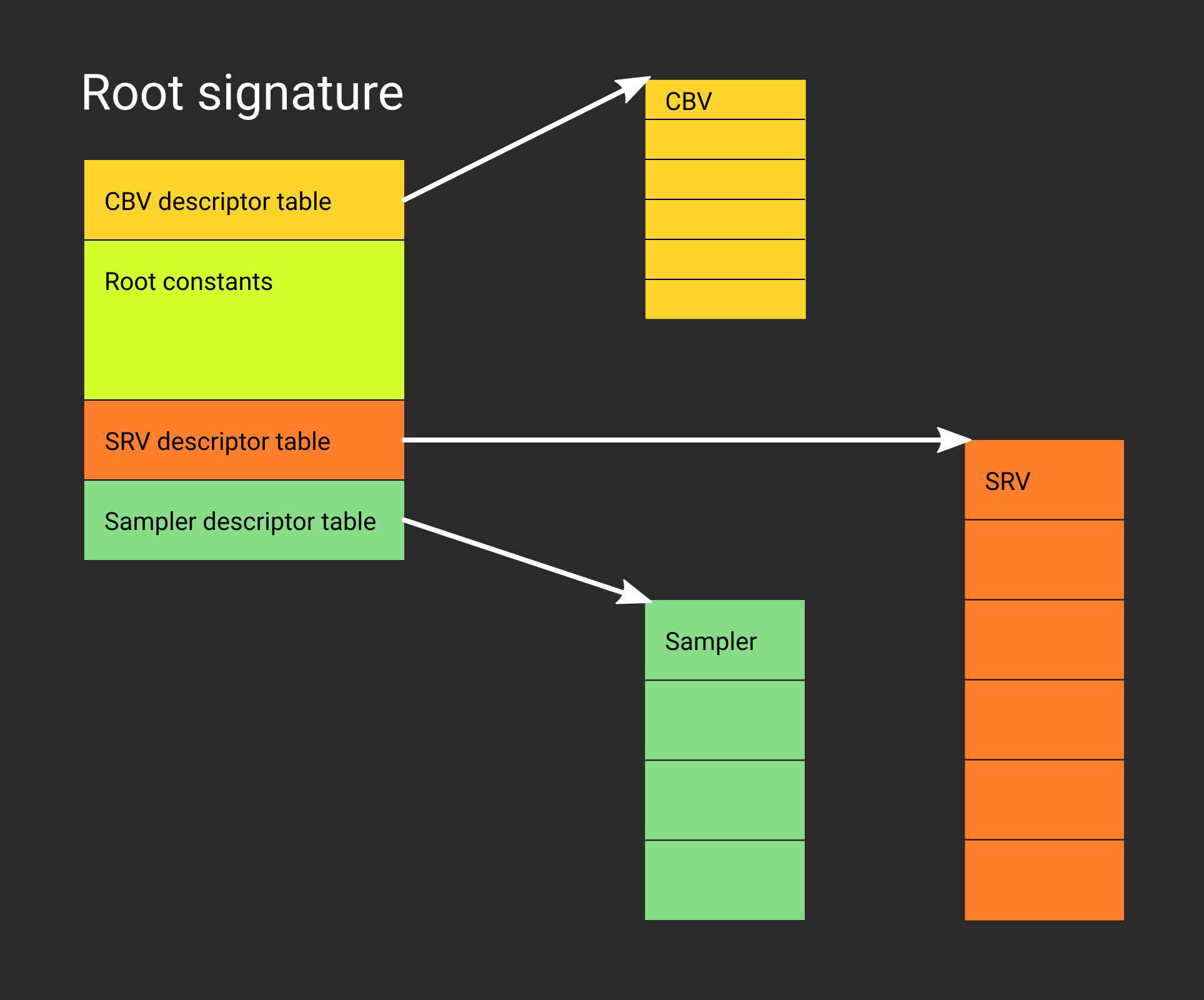 Other than that, the binding model is the same as Vulkan's, and requires that all resources are accessed through a descriptor. The main difference is the root signature which allows for certain kinds of descriptors to be stored in-line, while Vulkan expects you to go through a descriptor set in all cases.
Performance guidelines
The starting point for optimization is to keep the root signature as small as possible. A larger root signature means more chance of spill, and more entries for the driver to walk when validating parameters. That means, bind few descriptor tables, avoid setting large constants, and on Direct3D, don't use the buffer views in the root signature if you can avoid it. A single constant buffer view may be acceptable, but you're probably better off with a constant that provides you with an offset into a large constant buffer which is always bound. Let's take a look at the root signature below: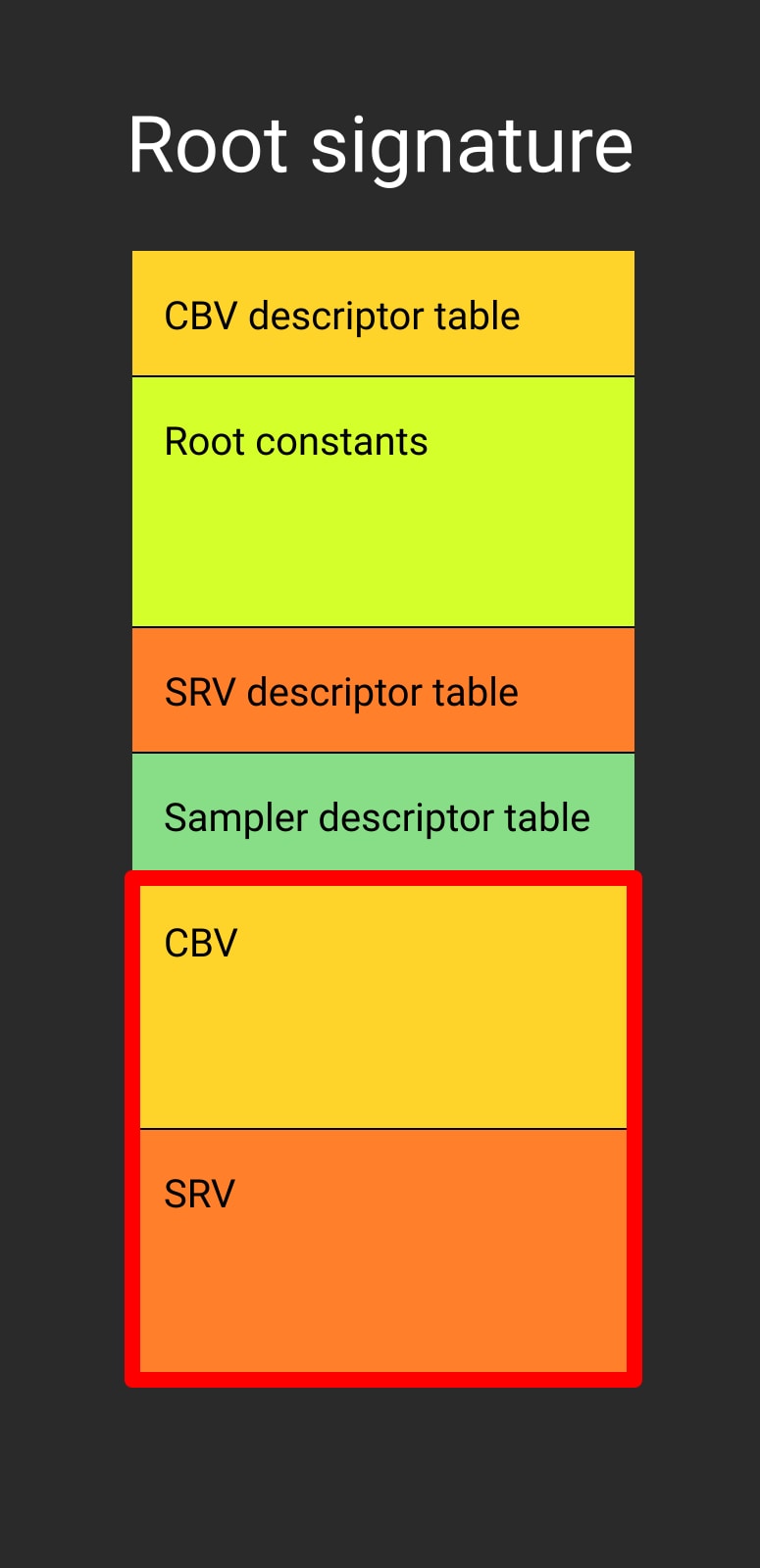 It starts with a pointer, some root constants, some more pointers, and then two descriptors. Those two descriptors may be overflowing and then we end up in a driver managed overflow buffer. Make sure to make your root signature as compact as possible avoid this issue!
In any case, you should always strive to keep the most frequently changing parameters first in the list. If spills are in play their frequency will drop dramatically, and the driver overhead in validating parameters is likely to be less too. This allows the driver to keep overflow handling constant, and the most frequently changing entry will remain in registers for good performance.
That's it for today! If you have questions, feel free to comment or ping us on Twitter: @NThibieroz & @NIV_Anteru.
Tweets
07: Keep your root descriptor set small and place most frequently changed entries first.
17: Order root signature parameters by change frequency (most frequent to least frequent).
27: Keep your descriptor sets constant, reference resources that belong together in the same set.
36: Use as few root signature slots as possible. Frequently updated slots should be grouped at the beginning of the signature
44:

Try to make root signatures as small as possible (create multiple root signatures if needs be).

49: If using multiple root signatures, order/batch draw calls by root signature.
54: Only constants or constant buffers changing every draw should be in the root signature.
Matthäus Chajdas is a developer technology engineer at AMD. Links to third party sites, and references to third party trademarks, are provided for convenience and illustrative purposes only. Unless explicitly stated, AMD is not responsible for the contents of such links, and no third party endorsement of AMD or any of its products is implied.