Radeon GPU Profiler 1.0
Introduction and thanks
Effective GPU performance analysis is a more complex proposition for developers today than it ever has been, especially given developments in how you drive the GPU in the last few years. The advent of hardware that can now overlap different workloads concurrently, and the birth and growth of new APIs to drive that kind of processing on the GPU, means that understanding what the GPU is doing in any given time period is very complex and difficult to understand. You need the right way to visualise what's happening.
That's the driving force behind our brand new cross-platform performance analysis tool: Radeon GPU Profiler (RGP). We created it to give developers a way to understand concurrent overlapped execution on Radeon GPUs in a way that's simple and actionable in terms of further optimisation and what you need to do next.
We've worked closely with a wide range of internal development teams on a wide range of GPU development problems here at RTG, to make sure that RGP helps them understand how to optimise the performance of their game, app or whatever they're working on.
We've also worked closely with a few key folks outside of AMD, letting them run RGP on their in-development games while RGP was in beta in order to help polish it for 1.0. Their feedback from that has been invaluable and we'd like to thank them publicly for their help and support in the run up to release.
Certain positive changes to RGP were made during beta based on common feedback from those partners, and RGP is a much better 1.0 than it could have been otherwise. Thank you to those folks, you know who you are!
Explicit APIs as our focus
The transition to modern explicit APIs such as DirectX® 12 and Vulkan® has required developers to learn about many lower level hardware constructs, such as barriers and hardware contexts, that were previously managed entirely by the driver. So we designed RGP specifically to help developers reason about some of the new software/hardware interactions no longer hidden by the API and driver.
Those two client APIs are built on top of a common lower-level internal API we call the Platform Abstraction Layer (PAL), and certain data that RGP needs for its functionality is surfaced by PAL. By focusing on those modern APIs we were able to tailor RGP to suit them best.
As you use RGP on Windows® or Linux™, you'll come to appreciate that decision. For example, certain hardware constructs modeled by the new APIs are first class citizens in terms of the information we display, and how we help you visualise it. We couldn't have built that functionality in for older APIs.
Using RGP internally
The development timelines of our first Vega GPU and RGP have fortuitously overlapped enough that we've been able to use the latter to do performance analysis work on the former, helping to assist Vega's bring-up process. Bring-up for a GPU is effectively making sure that the entire software stack works, from the firmware all the way up to the usermode driver an app or game talks to, with the hardware revision we taped out.
Those interfaces between hardware and software can and do change between GPU families, and even between revisions of GPUs in the same overall family, as we learn lessons about performance and efficiency and tune things as time goes by.
As you can imagine, that process takes quite a long time. That's because there's a lot that the lower levels of the stack can do in that interface we have with the hardware, to set things up on the GPU that affect how it works. Making sure all of those things are optimal delivers the guts of a GPU's performance in games.
One of the best ways to do that work is with something like RGP, because it lets you visualise how the GPU is actually executing. Being able to see command submissions turn into actual work dispatches on the GPU is invaluable, especially in cases where the game or app makes heavy use of asynchronous compute. Being able to see where things are executing concurrently right there on RGP's timeline gives you an at-a-glance view of how the GPU is being scheduled.
So while using RGP on Vega one day during bring-up, one of our engineers was able to visualise on the timeline that asynchronous compute dispatches were being scheduled in a particular way, and that if we were able to ask the engines on the GPU that dispatch work to the CUs to schedule things slightly differently, we'd be able to extract some more performance for those async compute dispatches.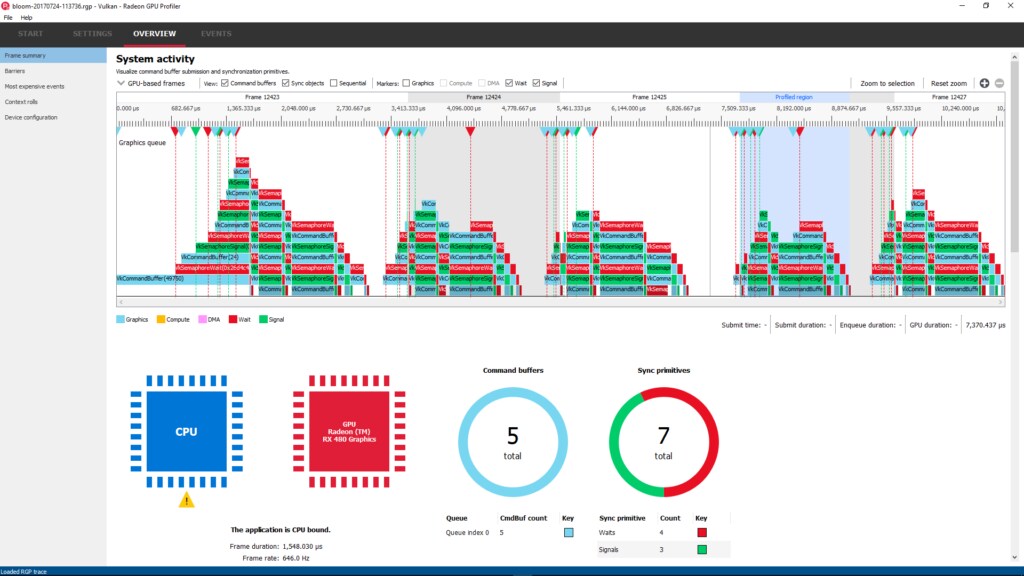 After some research and discussion with the hardware and driver teams, we determined that the other way to schedule the dispatches was optimal, the hardware could do it, and that we could enable it globally in the driver for all workloads. The net result? An increase in performance of 1-3% in a bunch of games and no regression in anything else.
Would we have fixed that without RGP? Probably, but it would have taken a lot longer to spot! The powerful way you can visualise how the GPU is working in RGP lets you pick up on things like that just by looking, giving you something actionable to go and investigate immediately.
So using our own software has helped us improve across the board performance on Vega ahead of launch in a nice measurable way. Game developers using RGP during its beta phase have already reaped rewards in their games due to the powerful visualisation of execution that it brings.
Just one of many tools in your toolbox
It's worth talking about what RGP isn't for a second, too. RGP is not a one-stop shop for all of your performance and debugging needs. It's specifically not designed to be a debugger in fact! Instead, RGP is a complimentary tool to the other great tools available today. We'd like to call out RenderDoc here in particular.
The combination of RenderDoc and RGP together create a debugging and performance analysis toolchain that's very powerful, and we've been happy to work with Baldur Karlsson to make sure that RenderDoc and RGP work well together and will be even better together in the future.
So whether you're using PIX, GPUView, RenderDoc, or any of the other tools available today for this kind of work, including those from other vendors, we want RGP to be complimentary and find a home in your particular workflow.
The future of RGP
It's worth repeating one of the reasons we wanted to build RGP: because of the way GPUs are driven now, spotting performance inefficiencies and optimisation opportunity is only possible if you're presented with the data in an understandable and actionable manner. You need to know what to do next when presented with a view of your game or application's performance.
That means we've rejected as much as we've accepted into RGP as time has gone by. RGP needs to help you move forwards and solve the performance puzzle, not overload you with data and be difficult to use effectively as a result, and we'll continue to build it based on that ethos.
So what's next for RGP? Firstly, we'd love you to use it and give us feedback, so that we can collect the common stuff and work on that as our top priority. That will help us polish the 1.0 experience to make sure it's working well for most of you in your common analysis workflows.
When that's done, we'll start to work on a future roadmap and talk more about that here on GPUOpen. Great feedback is what will help us develop that and talk about it, so please use it in anger and then get involved and let us know what you think.
In the meantime, give it a try and come back to GPUOpen from time to time to learn more about it. We'll have videos showing you to how to use it and unlock its potential, case studies on how it helped to solve real performance problems in games, and information on what's coming next.
More information
You can find out more about RGP, including links to download this first release, on our product page.
Rys Sommefeldt looks after the Game Engineering group in Europe, which is part of the Radeon Technologies Group at AMD. Links to third party sites are provided for convenience and unless explicitly stated, AMD is not responsible for the contents of such linked sites and no endorsement is implied.