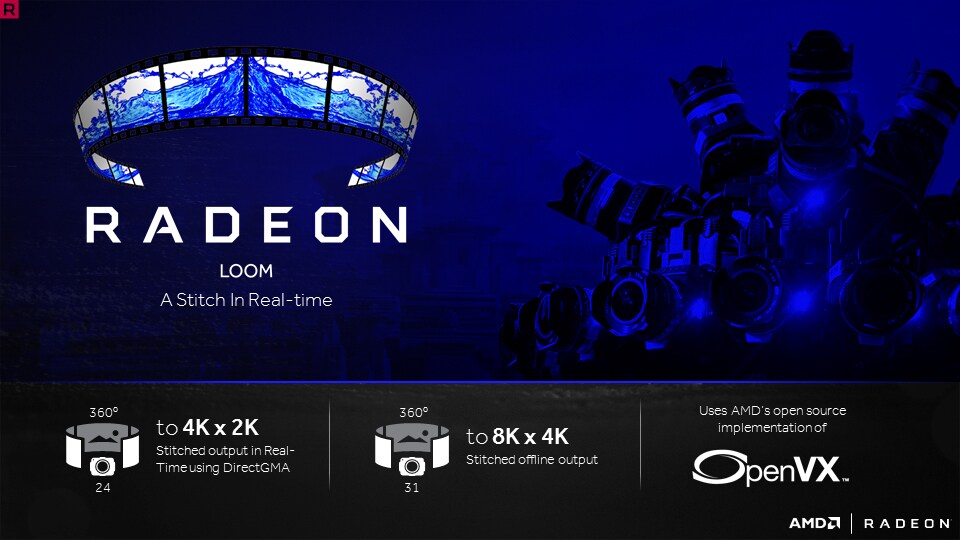 The Radeon Loom Stitching Pipeline
I'm Mike Schmit, Director of Software Engineering with the Radeon Technologies Group at AMD. I'm leading the development of a new open-source 360-degree video-stitching framework called Radeon Loom.
This blog, the first in a series for GPUOpen, is a brief overview of 360-degree video stitching, and how we went about optimizing the code to run in real time.  If you missed my previous post, click here to read an introduction to Radeon Loom and some 360 degree-video background.
First, we'll look at the overall software hierarchy, and then at the overall Radeon Loom stitching pipeline.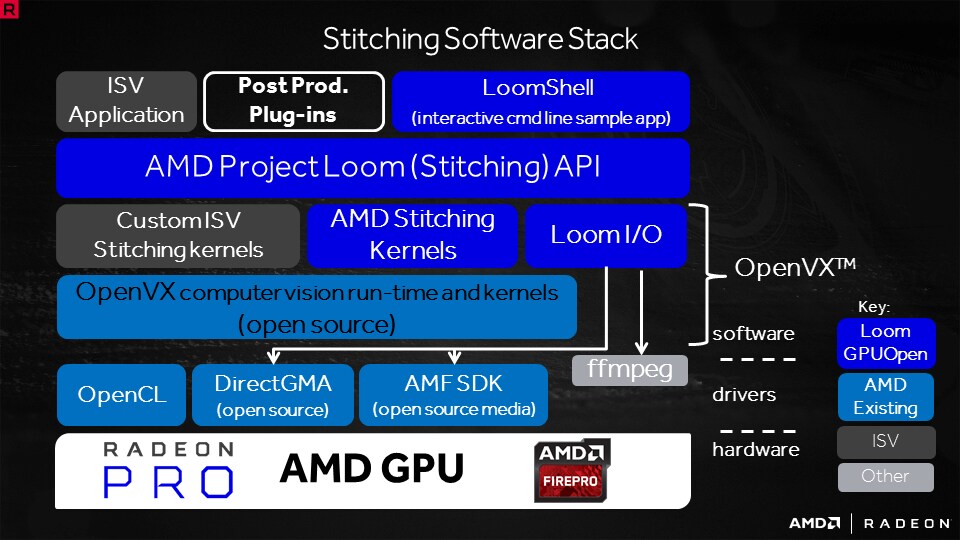 OpenVXTM: The Solid Foundation
We built the Radeon Loom stitching framework on top of OpenVXTM. Using OpenVX as a foundation is very important for several reasons. OpenVX is an open standard for cross platform acceleration of computer vision applications designed by the Khronos Group that also supports OpenGL®, OpenCLTM, Vulkan®, and many other standards. OpenVX enables performance and power-optimized computer vision processing, especially important in real-time use cases such as object and scene reconstruction, virtual and augmented reality, visual inspection, and more.
OpenVX is well suited to this task because it allows the underlining architecture to efficiently run the compute graph (or pipeline) the best way that the hardware can execute it. Details of how the hardware obtains its efficiency do not need to be exposed to the upper levels.
The AMD implementation of OpenVX includes a Graph Optimizer that conceptually acts like a compiler for the whole pipeline. We have completely open sourced this Graph Optimizer on Github, located here.
Additionally, the OpenVX specification by design enables each implementation to decide how to process each workload. For example, the processing could be out-of-order, in tiles, in local memory, or handled in whole or in part by dedicated hardware. This means as the hardware and software drivers improve, the stitching code can automatically take advantage of this in a similar way that 3D games can achieve higher frame rates and higher resolution with new hardware and new drivers.
The Stitching Pipeline
Whether you are stitching in real-time or off-line (in batch mode) most of the steps are the same. Let's start by explaining the off-line pipeline. We start with a camera rig and capture a group of videos, probably to SD cards or micro SD cards depending on the cameras in your rig. After you finish shooting, you copy all your files to your PC and start an app to do the stitching (I'm being brief here so some steps are being omitted). Here is what the pipeline looks like: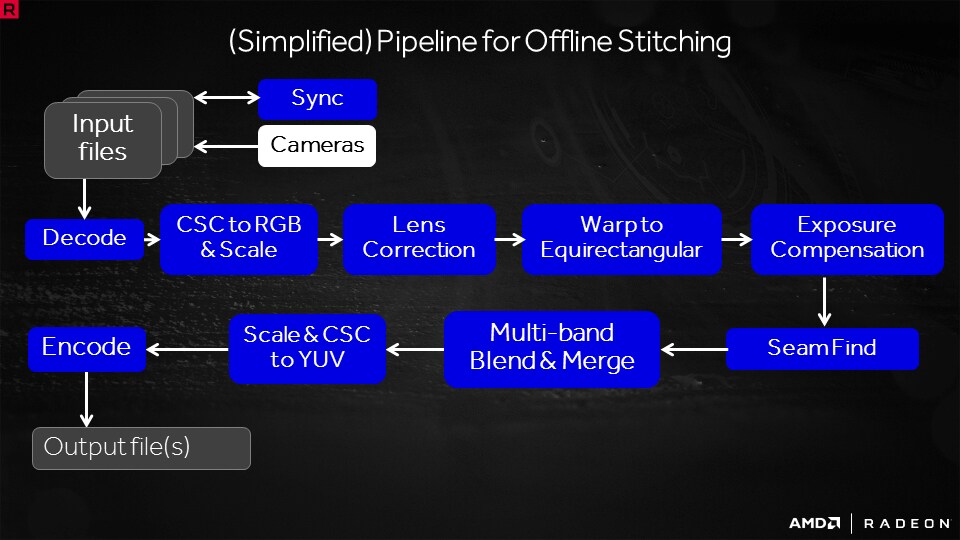 Before we get too far along, it would be good to know what the output is going to look like. To get a spherical image to view in a headset, we need to create a flat projection of a sphere: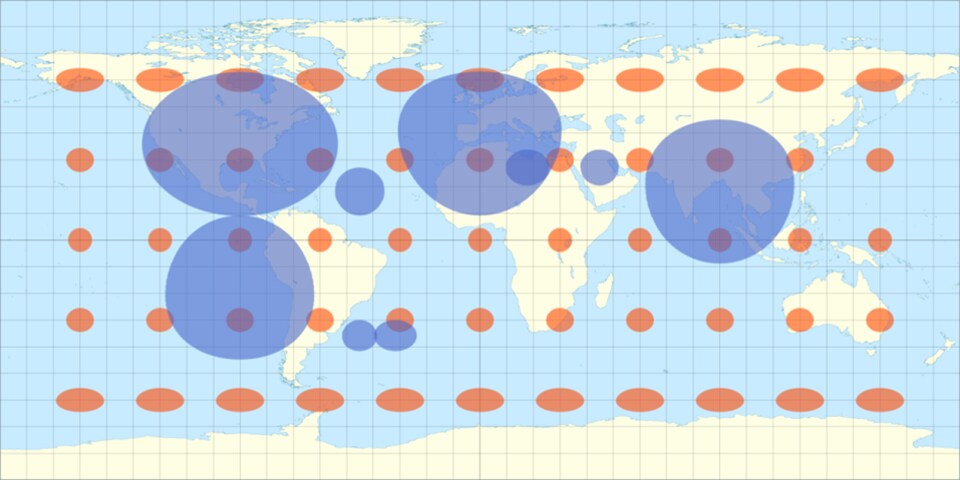 The 360-degree video player application warps the above flat equirectangular image into a sphere, shown below.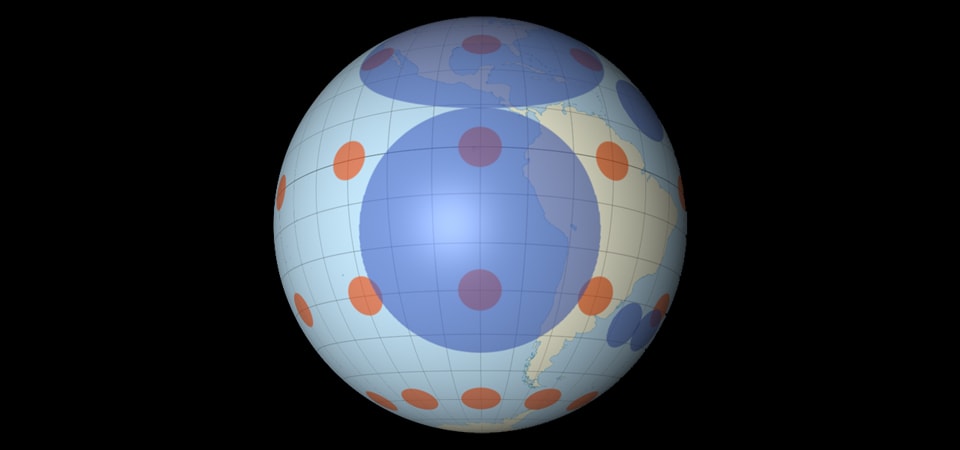 This is the most common method, called an equirectangular projection. There are many other possible projections as seen in this link.
The first step in the pipeline is to decode the video that your camera encoded into a standard format such as H.264. The next step is performing a color space conversion to RGB. Video codecs such as H.264 store the data in a YUV format, typically YUV 4:2:0 to obtain better compression. Note that the initial Radeon Loom pipeline is 8-bit, and planned future versions are being designed to support greater than 8-bit-per-pixel data.
The next step is lens correction, which is dependent on the lens used on your camera. The distortion of the lens is corrected to make straight lines appear straight, both horizontally and vertically. Following lens correction, the next step warps the image into a buffer that is an equirectangular projection. We will discuss later how and where all the parameters for these warps are calculated, but the steps essentially look like the drawings shown below: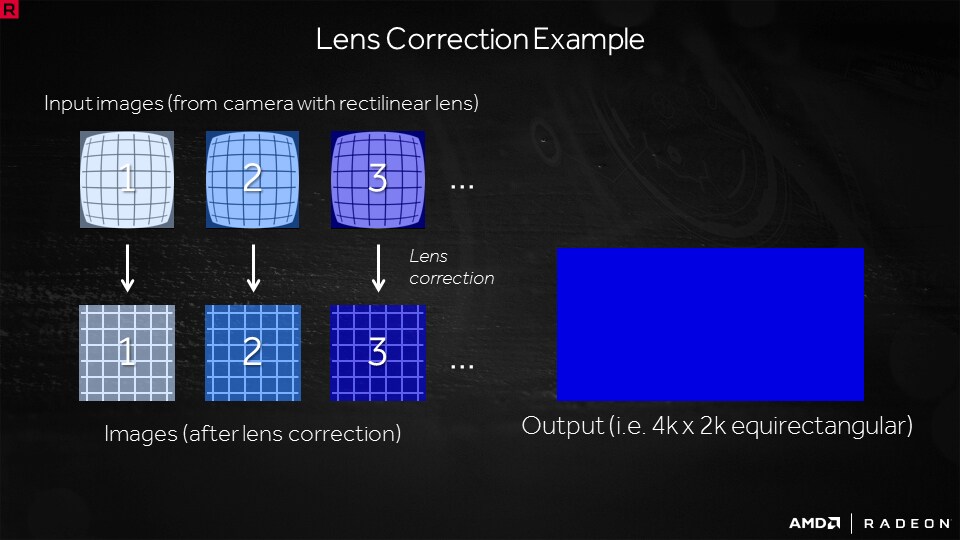 Fisheye lenses and circular fisheye lenses produce even more distortion that requires correcting. Below is an illustration of warping the corrected images into equirectangular-sized intermediate buffers.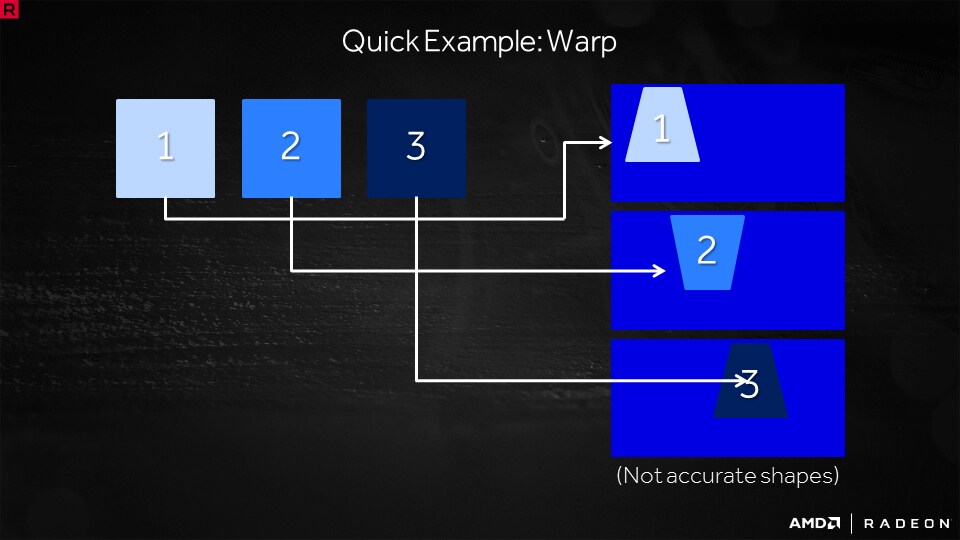 At this point, if you simply merge all the layers together as shown below, you will have a stitched image. But, we've skipped over a couple of things: dealing with the overlap areas and adjusting the exposure between each image and across the overlap areas.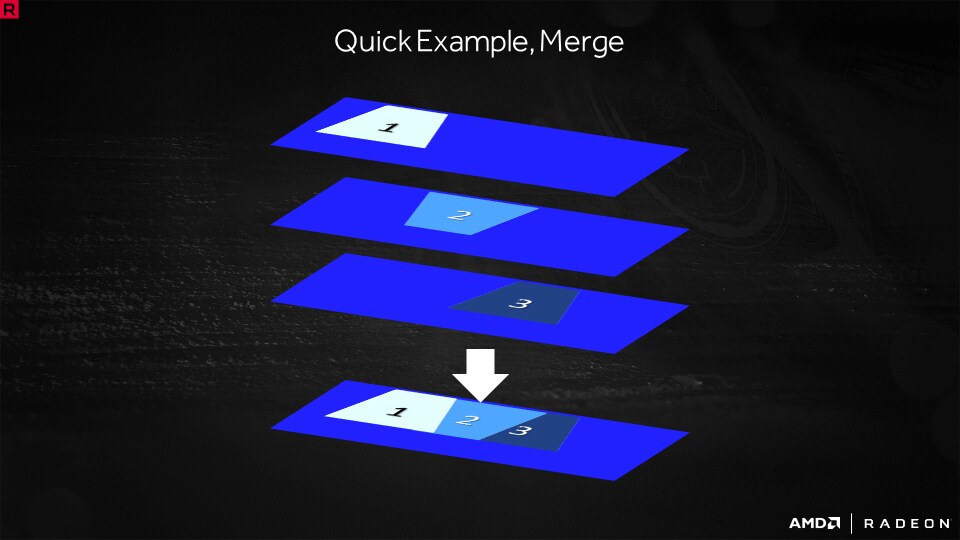 Radeon Loom has blending modules for seam-finding and exposure compensation, and multi-band blending, that are needed in order to obtain a good quality stitch balanced across the camera images that minimizes the visibility of the seams.
We've now completed our look at a very simple example of a 360-degree video stitching pipeline. We've also discussed how OpenVX is used as the high-efficiency foundation and run-time engine controlling the frame-by-frame and step-by-step processing that keeps the GPU busy, thus helping maximize performance.
In our next blog, we'll go over more details on seam finding and exposure blending, then dive into the actual Radeon Loom API. Following that, we'll describe how to add your own OpenVX modules to customize the stitching with your own algorithms.
If you are a developer working in the 360-degree video industry you don't have to wait for our final Radeon Loom SDK. You can download the beta preview of the Radeon Loom Stitching Library on GPUOpen.com.
OpenVX, OpenGL, and Vulkan are registered trademarks of Khronos Group, Inc. OpenCL is a trademark of Apple Inc. used by permission by Khronos Group, Inc.
Mike Schmit is the Director of Software Engineering for Radeon Loom at AMD's Radeon Technology Group. Links to third-party sites and references to third-party trademarks are provided for convenience and illustrative purposes only. Unless explicitly stated, AMD is not responsible for the contents of such links, and no third-party endorsement of AMD or any of its products is implied. Use of third-party names or marks is for informational purposes only and no endorsement of or by AMD is intended or implied