Say Hello to a New Rendering API in Town!

Imagine that you were asked one day to design an API with bleeding-edge graphics hardware in mind. It would need to be as efficient as possible, support both immediate and tiler rendering architectures, be compatible with all major operating systems, and provide a level of functionality comparable to competitive APIs already on the market. We could keep adding more and more requirements here, and it would still only mark the beginning of a very lengthy list of expectations that your technology would have to meet to satisfy your customers' needs.
Well, we have some thrilling news to share. Earlier today, the ratified Vulkan™ 1.0 Specification was publicly released by the Khronos™ Group. Not only does this new API meet the expectations I mention above, it also brings a huge range of new possibilities to developers and graphics engineers around the globe. Descended from AMD's Mantle API and further adapted by experts coming from both the IHV and ISV worlds, the new API takes a steep methodology turn. As an example, in order to reduce the number of redundant calls (issued over and over again for subsequent frames), as well as any chances of hitting pipeline bubbles, which frequently cause the uncanny effect of frame rate fluctuations, 3D applications will no longer be required to make thousands of API calls per frame. Instead, by leveraging new instruments such as command buffers, they are expected to bake these in advance, later on replacing the expensive calls with just a single one.
Multithreaded Rendering is Here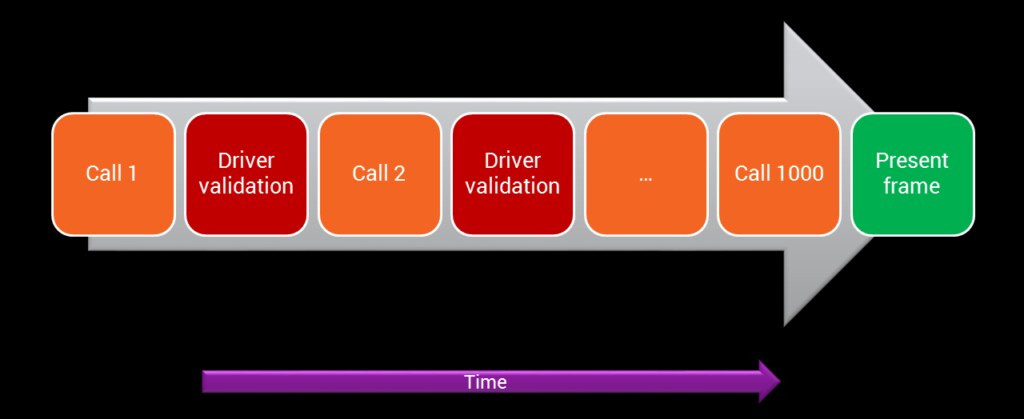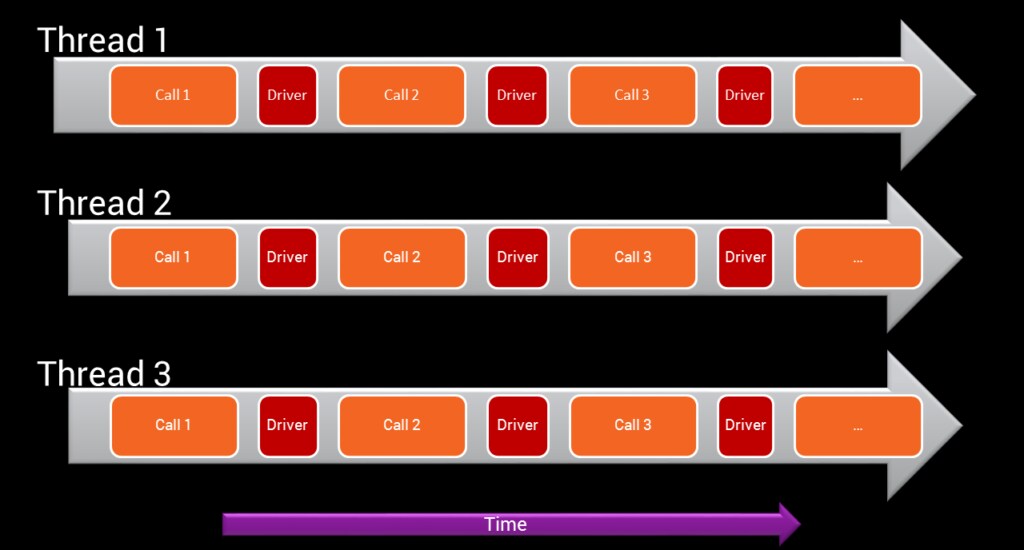 Baking is an interesting concept but could easily transform into bottlenecks if the process is limited to a specific thread. Fortunately, with Vulkan, applications are no longer limited to single-threaded rendering contexts, which often forced them to perform expensive inter-thread synchronization. With the new API, your application can freely issue API calls from any thread it wants, as long as it follows object access synchronization requirements. In other words, as clearly stated in the Vulkan specification, the more threads the CPU can run simultaneously, the quicker the GPU can start drawing frames – as long as Vulkan applications distribute the baking process across all available CPU cores.
Multi-thread support in the API is just one side of the coin. Vulkan introduces analogous concept on the GPU side. With AMD's GCN architecture and the new API, developers gain direct access to distribution of GPU work to separate command queues. This means that you can have one queue working on physics calculations, while the other one works on rasterization. Keeping the GPU busy at all times helps avoid the pipeline bubbles I mention earlier – this is crucial for achieving the best rendering performance possible.
Adjust the Extent of Run-Time Validation
It should also be stressed that the Vulkan API is explicit, which means the amount of validation performed for every API call issued is reduced to the bare minimum. For instance, if your application makes the bold move of attempting to use an already-released object, or if it attempts to issue a draw call when not permited by the specification, chances are it will crash or hang the GPU. The API designers were well aware of how easily such mistakes could be made with the new design, but they also knew how much time is spent every frame on verifying if the calls the API client makes are correct. To reconcile both worlds, validation layers were forged. These can be optionally enabled in run-time to provide feedback to applications. Similarl to GL_ARB_debug_output, the information is passed via callbacks, which can provide information about critical errors – and potential ways of improving performance – or simply provide a warning that the application is not conforming to the specification. This means the outcome can vary from platform to platform.
Renderpasses
I mention earlier that the Vulkan API was designed with vastly differing hardware architectures in mind. One of the novel concepts introduced in the API with this requirement specifically in mind is that of renderpasses. A renderpass is a mean which allows the application to communicate to the driver, how the rendering process is going to be carried out. The driver is told in advance, what portions of the images are going to be accessed (be they read or modified), at what times these accesses are going to occur, and in what order the rendering passes are going to be executed. All this information allows the driver to postpone cache flushes until they are really needed and potentially reorder the rendering process, interleaving non-overlapping rendering passes with each other, to obtain maximum performance given the running hardware's architecture and capabilities. However, one of the most important properties of renderpasses is the fact that the application can now clearly state how it plans to spend a significant portion of frame time. This information needs to be baked – once created, it cannot be modified. However, thanks to this restriction, a whole new world of driver-level optimizations, which was not possible with previous APIs, emerges. Graham Sellers will be covering this feature in greater detail in one of the upcoming posts covering Vulkan, here on GPUOpen.
Talking about optimizations, we cannot forget about those that are performed transparently by the driver. Many hardware architectures support proprietary lossless compression formats, which reduce the size of the input data without affecting the image quality. This reduces bandwidth pressure, often leading to improved performance. In previous APIs, such "trifle" details were hidden from the developer. This sometimes led to situation where the driver unnecessarily compressed and decompressed the data, having misjudged what the application was intending to do. There was no easy way of avoiding these situations, as the commands were submitted there on a per-frame basis – the driver had simply no way of knowing what the next commands would be, it could only make an educated guess! In Vulkan, however, this is no longer the case. The developer now has to take care of transitioning the image data between so-called "image layouts", which relate to what can be done with the image after it is transitioned to the layout. Simultaneously, the layout can (but does not have to) correspond to hardware-optimal representation of the image data for the specified use case. On certain architectures, the transitions are going to be converted to NOPs, but on other ones, they are going to cause actual action. This is yet another good reason, for which we recommend you always use validation layers at development time.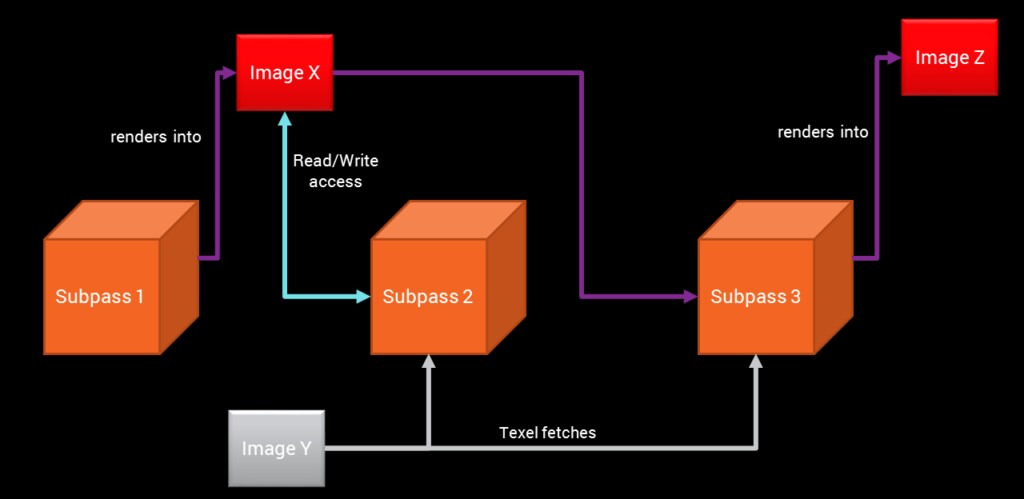 SPIR-V
Another important feature introduced in Vulkan is SPIR-V, a binary intermediate language for compute & graphics shader representation. Because there has been no reference GLSL compiler in the past, each hardware vendor has had to implement this on their own. This has often led to situations where a malformed shader compiled successfully on vendor A's drivers, but refused to compile (for legitimate reasons!) on vendor B's hardware. SPIR-V addresses this problem by moving to binary form which is significantly less prone to dangerous corner cases and specification misinterpretation, as compared to GLSL. Its instruction set is generic enough to let all GPU architectures support it, and the drivers are expected to apply hardware-specific optimizations when converting SPIR-V representation to hardware IL. Another feature that comes with SPIR-V is obfuscation support, similar to what happens if you compare C representation with its assembly equivalent. Last but not least, SPIR-V is much quicker to compile, as the driver no longer needs to parse the textual representation of the shader.
Of course, Khronos is not expecting anyone to write shaders in SPIR-V opcodes. Thankfully, these times are long gone. Khronos recommends a special tool called glslangvalidator which provides a way to convert GLSL shaders to SPIR-V. The application can be easily integrated into your authoring pipeline to build SPIR-V blobs as a pre- or post-build step, or can be statically linked with your product to perform the conversion process at run-time.
Welcoming the Community
What is also exciting about Vulkan is that never before has the developer community been invited to participate so closely in the process of building the API. Apart from the open-sourced version of glslangvalidator and validation layers I described earlier in the post, available for anyone to check out, Khronos went a step further and also opened the Vulkan Conformance Test Suite. The tool can be used by anyone to verify API support in Vulkan drivers, or to propose new tests. This is a novel way for the community to improve driver quality over time.
These are just some of the examples of new features that are part of the API. There are simply far too many to cover in a single post! What we have tried to highlight in this blog post is that Vulkan bravely breaks away from the concept of backward conceptual compatibility, which OpenGL and OpenGL ES have been very well known for. It is our belief that this is a major step forward; the API is thinner, cleaner and maps very well onto existing hardware architectures. It is the best choice for portable, performance-hungry applications and games, allowing for better graphics quality and frame-rate.
Some vendors suggest Vulkan and OpenGL worlds can be married; we are reluctant to agree with this hypothesis. Any attempt to merge features such as asynchronous shader support with the heuristical nature of OpenGL drivers is bound to fail to deliver utmost performance. Let's not forget, rendering efficiency is exactly the reason for which the new API was developed in the first place! It is for this very reason that we believe it is better to write Vulkan applications from scratch, rather than attempt to mix both APIs in a single application. It is a known fact various areas of OpenGL have been loosely defined in order to support different hardware architectures. How they interact with Vulkan is undefined – we can only imagine how much time application developers would need to spend debugging misbehaving "mixed" OpenGL and Vulkan code, whose execution is likely to vary from platform to platform. Following this path might work for developers in the short term, but is definitely not a good choice for long-term projects.
More
Other Vulkan related blogs on GPUOpen
Dominik Witczak is a MTS Software Development Engineer at AMD. Links to third party sites, and references to third party trademarks, are provided for convenience and illustrative purposes only. Unless explicitly stated, AMD is not responsible for the contents of such links, and no third party endorsement of AMD or any of its products is implied.