TrueAudio Next Demo and Paper at GameSoundCon
In 2016, AMD brought TrueAudio Next to GameSoundCon. GameSoundCon was held Sept 27-28 at the Millennium Biltmore Hotel in Los Angeles. GameSoundCon caters to game sound designers and game music composers with educational tracks, round tables, and tutorials. Noteworthy for 2016 was a new research track, along with an audio for virtual reality track. Attendance reached full capacity.
Research Track Paper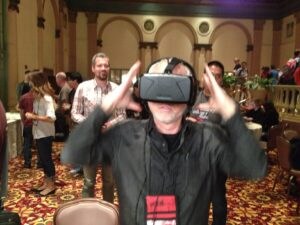 I gave a paper on TrueAudio Next with CU Reservation for the research track, which ran on the second day of the conference. My co-authors were Alexander Lyashevsky of AMD, and Lakulish Antani of Impulsonic (recently acquired by Valve). The paper (in the research track proceedings) is now downloadable here. The talk focused on the use case of physics-based acoustics for audio rendering in virtual reality games with GPU acceleration. We provided measurements showing the capability of TrueAudio Next with compute unit reservation for supporting the high number of long-kernel, low-latency convolution channels needed for real-time physics-based rendering. The session was well-received and there were a number of good questions from the audience.The attendees' great interest validated my sense that advanced audio rendering is gaining momentum in the game industry, spurred on by the demands of virtual reality for better audio realism.
Many attendees of the session came by afterwards and heard the TrueAudio Next game audio demo using real-time geometric acoustics, running on the main demo floor.
New Video of TrueAudio Next Demo
Speaking of demos, we now have a new virtual reality demo of TrueAudio Next, originated by Kevin Cornish (Moth+Flame).  A short video from the demo, recorded using Radeon ReLive, is now available here.  The video shows one of the scenes of the demo with audio rendered by an advanced version of Impulsonic Phonon using TrueAudio Next to enable uncompromised real-time physical acoustics propagation. It also includes a view of the same scene as it appears in Unity engine, showing some of the techniques used to create the physically rendered sound design. Be sure to check it out!
Carl Wakeland is a Fellow Silicon Design Engineer for AMD. His postings are his own opinions and may not represent AMD's positions, strategies or opinions. Links to third party sites are provided for convenience and unless explicitly stated, AMD is not responsible for the contents of such linked sites and no endorsement is implied