High-fidelity reflections in your scene, without costing the earth. AMD FidelityFX Stochastic Screen Space Reflections (SSSR) uses your rendered frame to create brilliant reflections. 
Supports:
Download the latest version - v1.3
This release adds the following features:
Extracted the essential parts of the library to one HLSL header file to ease integration.
The reflection denoiser is extracted to its own library and added to AMD FidelityFX Denoiser.
Fixed a few minor visual bugs.
Both the DirectX®12 and Vulkan® sample have been reworked to utilize Cauldron and demonstrate the following effects:
Download the latest version - v1.4
Part of the AMD FidelityFX™ SDK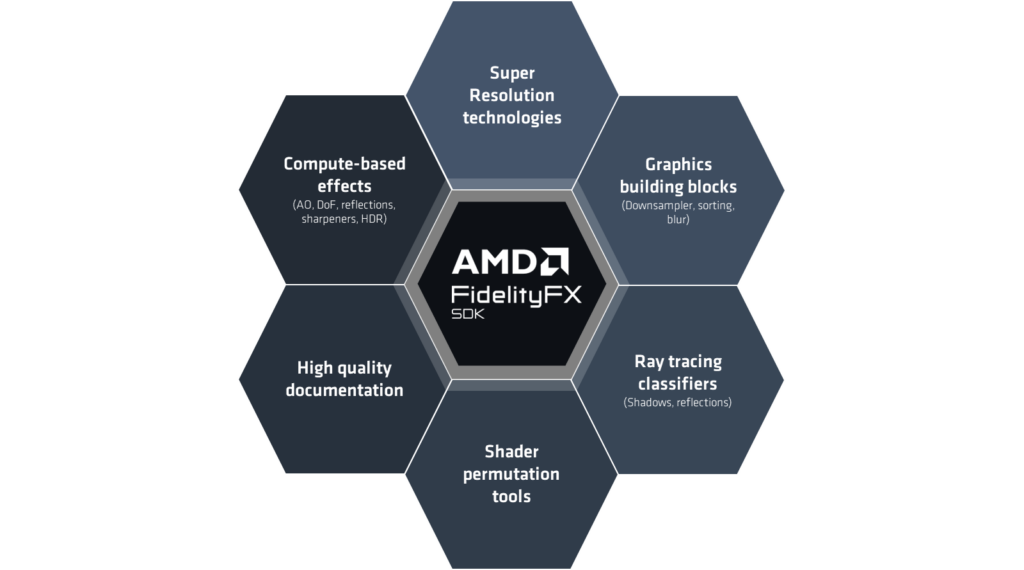 State-of-the-art algorithm
Optimized for Shader Model 6.0+
AMD FidelityFX SSSR provides an open source library to easily integrate stochastic screen space reflections into your game.
The term "Screen Space Reflections" describes an effect that can create realistic looking reflections purely based on information already present in the rendered image. The underlying algorithm shoots reflection rays from a depth imprint of the rendered scene (a so-called "depth buffer") and follows them in constant steps through the image until these rays intersect with the depth buffer again. Instead of taking constant-sized steps, FidelityFX SSSR builds on an industry-leading algorithm that searches the rendered image in a hierarchical manner. This allows for larger and fewer steps on average, increasing performance of the search and quality of the final image.
To support glossy reflections, this FidelityFX effect jitters the reflection rays to create the sense of surfaces with varying roughness. However, that approach inherently introduces noise. Thus, AMD FidelityFX SSSR comes with a high quality denoiser specifically optimized for the RDNA™ architecture. The denoiser combines the results from multiple frames to create a noise-free image. Furthermore, it allows the ray count to decrease based on surface roughness, thus further speeding up screen space traversal. 
Hierarchical depth buffer traversal kernel.
Confidence based hit validation.
Support for Direct3D®12 API and Vulkan® API.
Shaders written in HLSL utilizing SM 6.0 wave-level operations.
A sample application is provided for Direct3D®12 and Vulkan® showing the following features: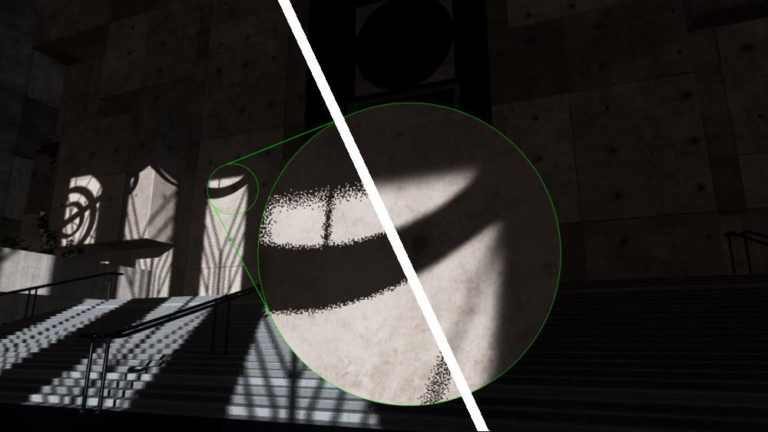 AMD FidelityFX Denoiser is a set of denoising compute shaders which remove artefacts from reflection and shadow rendering.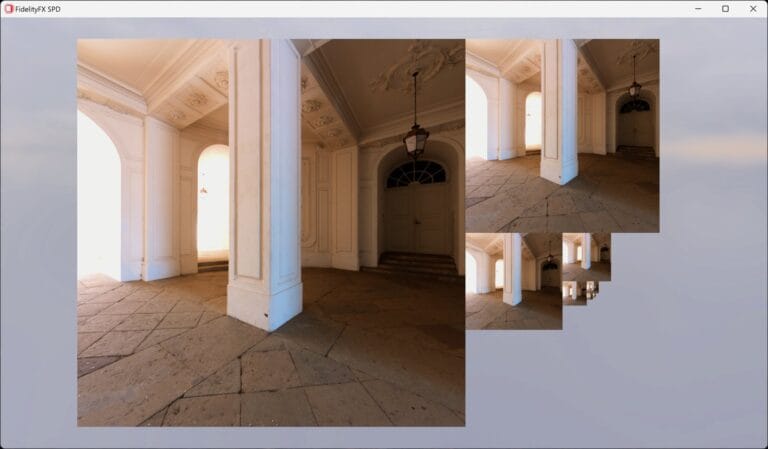 AMD FidelityFX Single Pass Downsampler (SPD) provides an AMD RDNA™ architecture optimized solution for generating up to 12 MIP levels of a texture.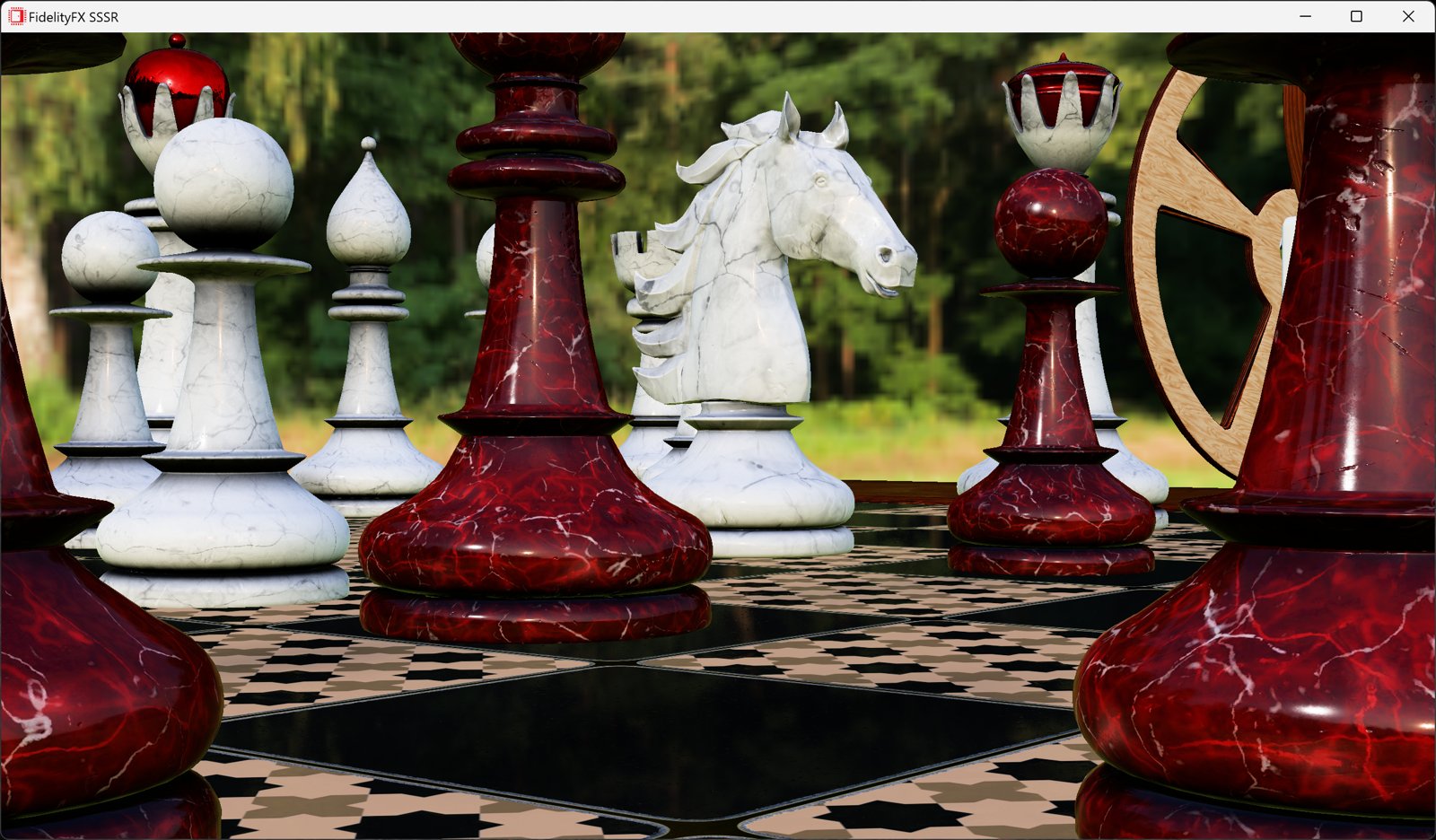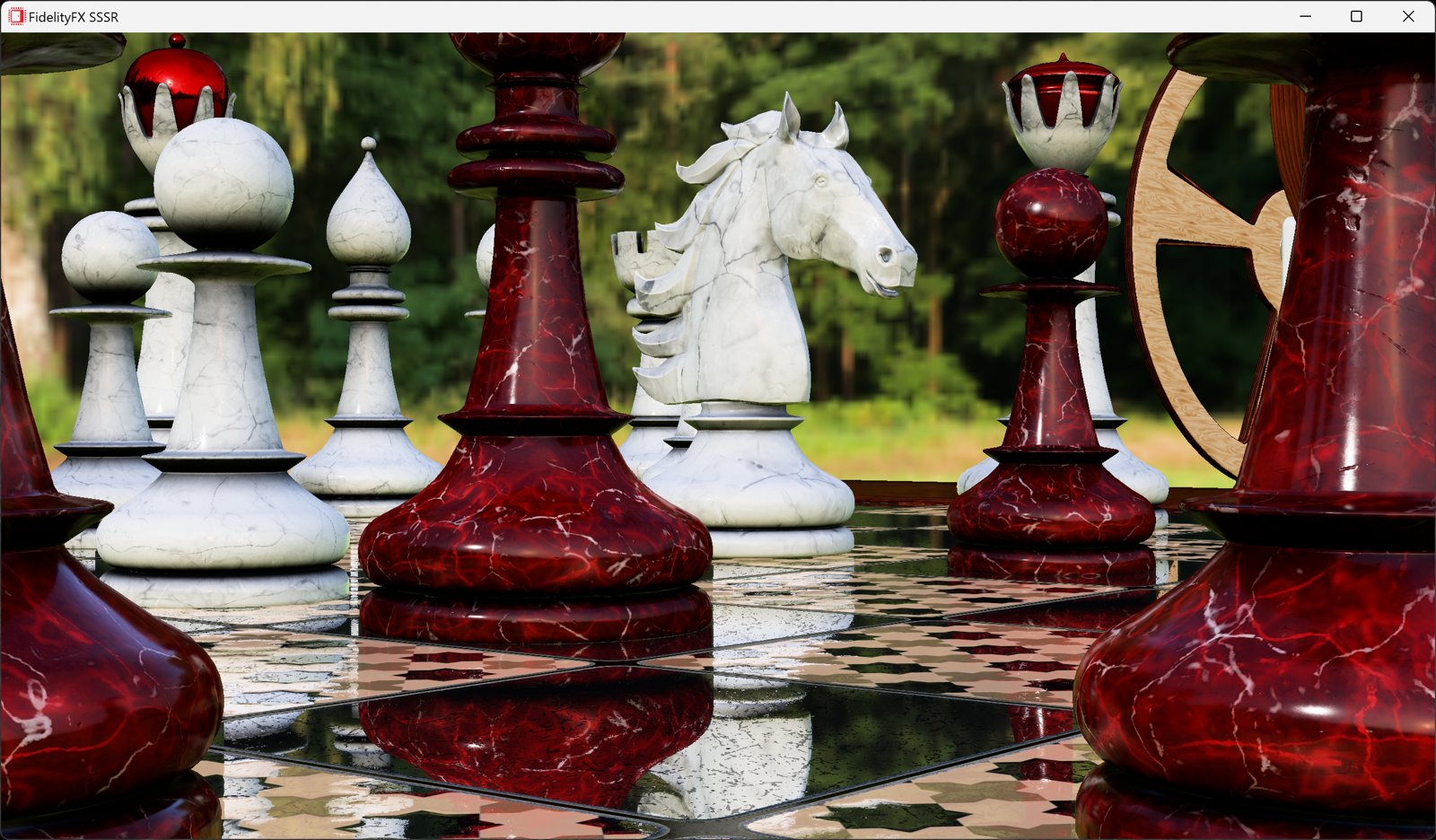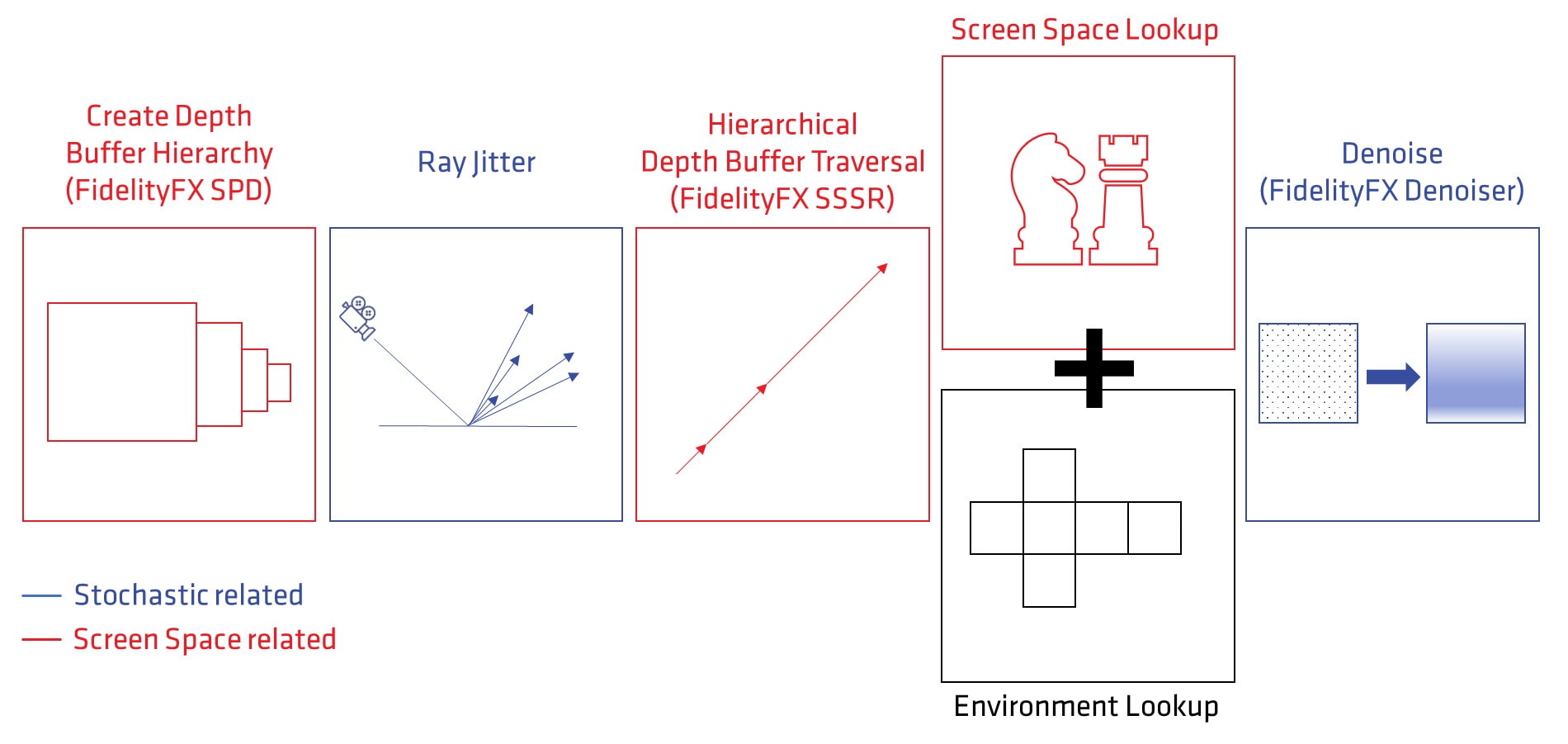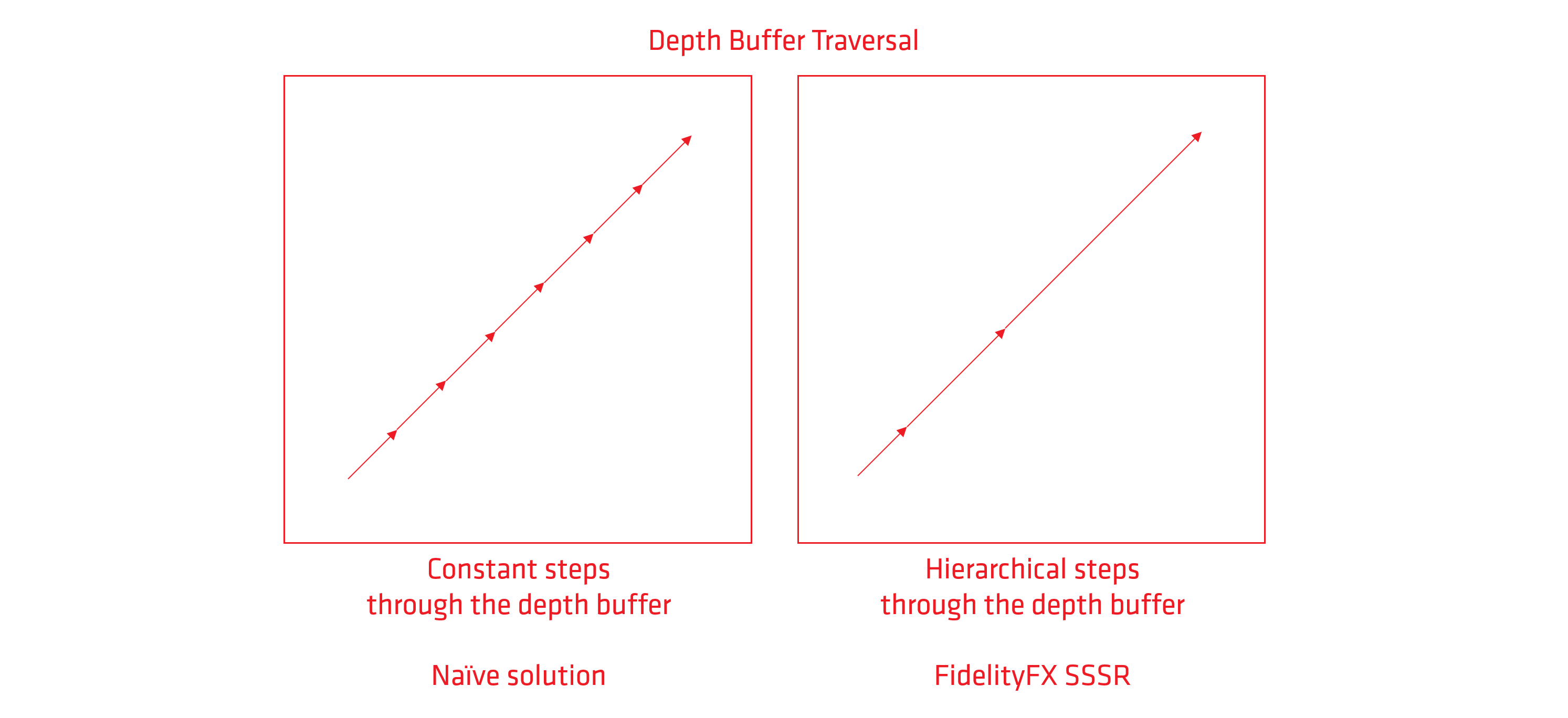 Reflection result processed by AMD FidelityFX Denoiser: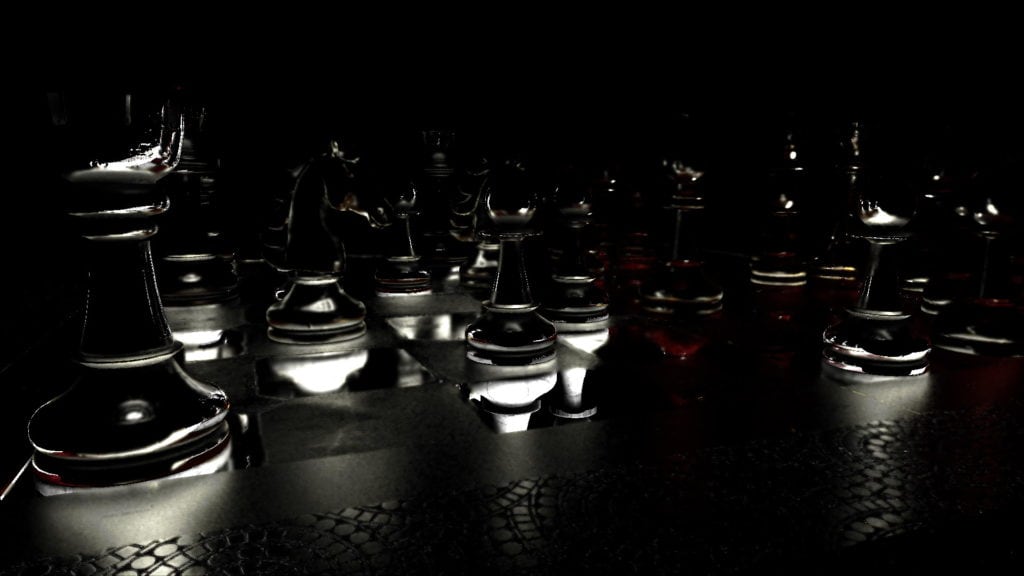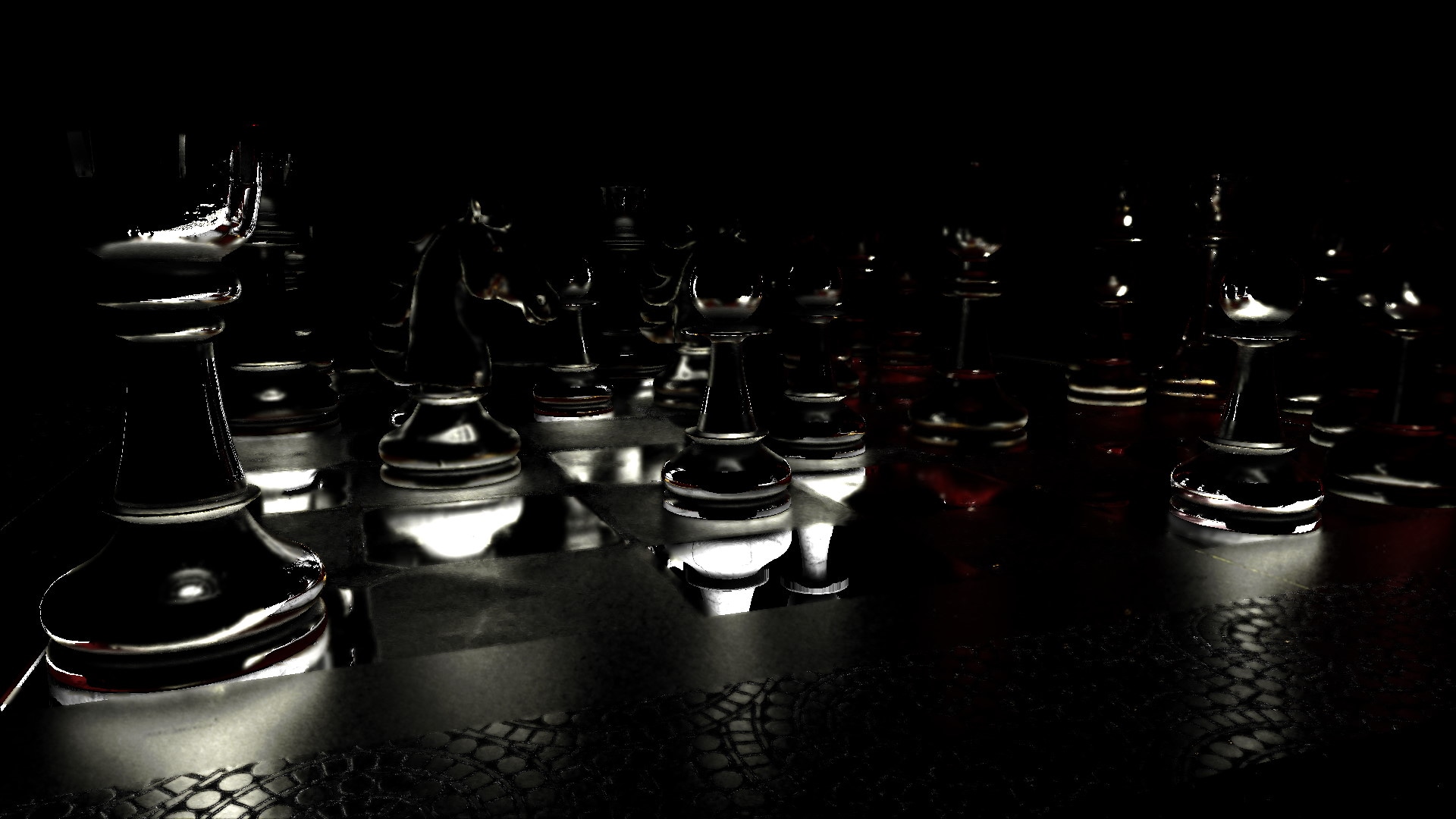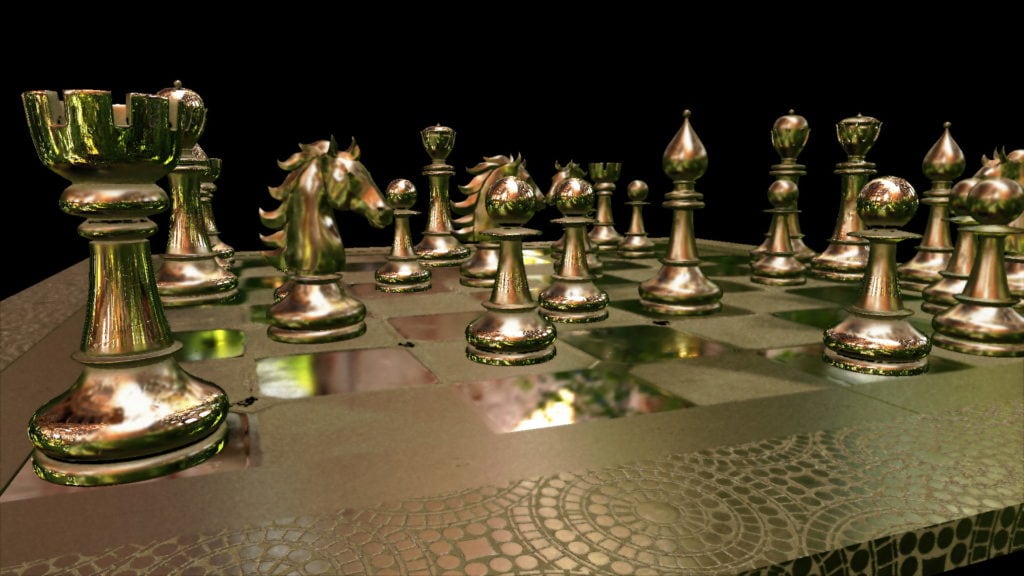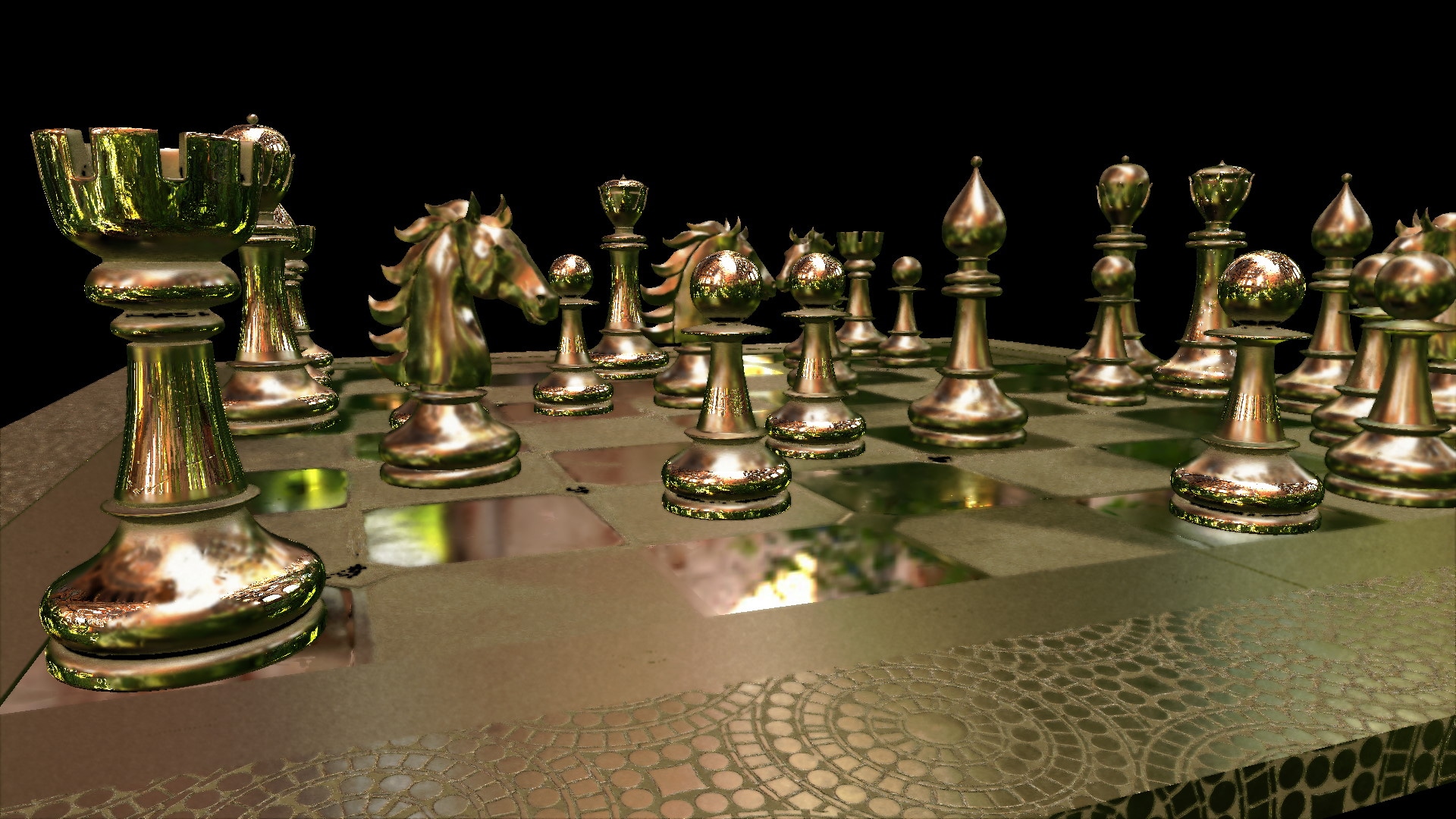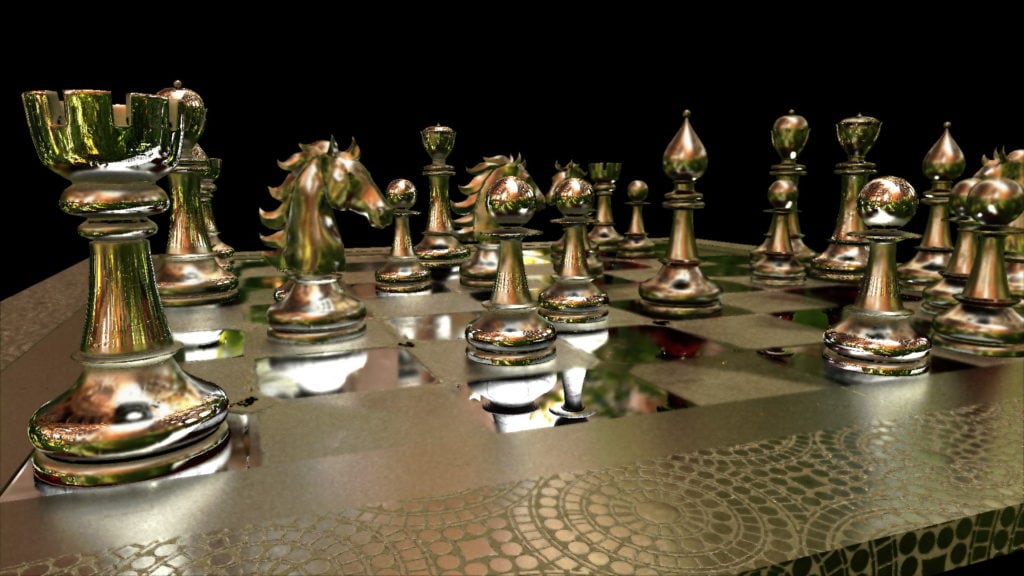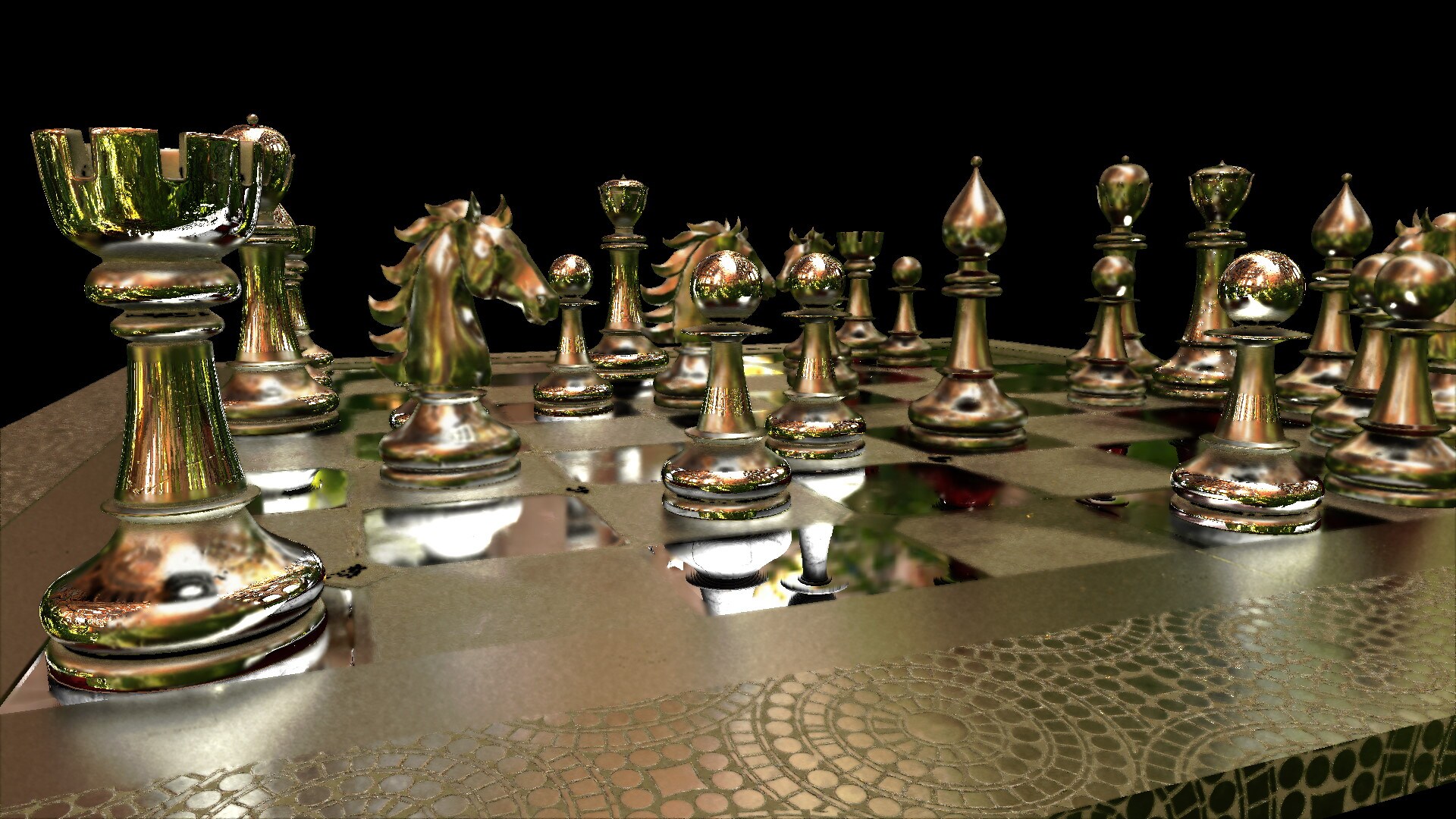 All part of the FidelityFX SDK!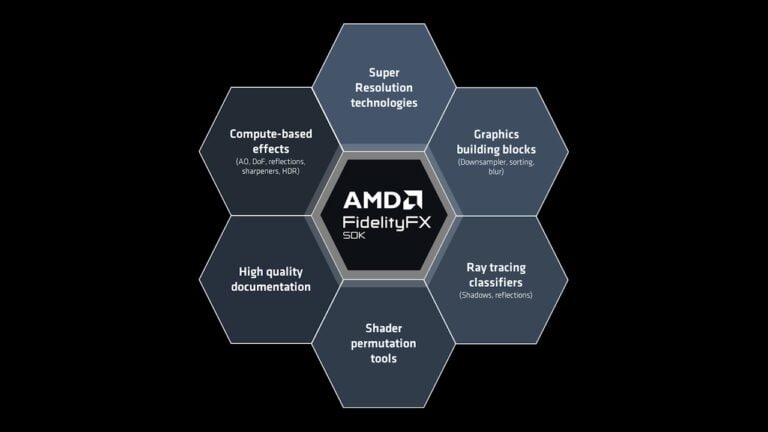 The AMD FidelityFX SDK is our easy-to-integrate solution for developers looking to include FidelityFX features into their games.
Don't miss our other effects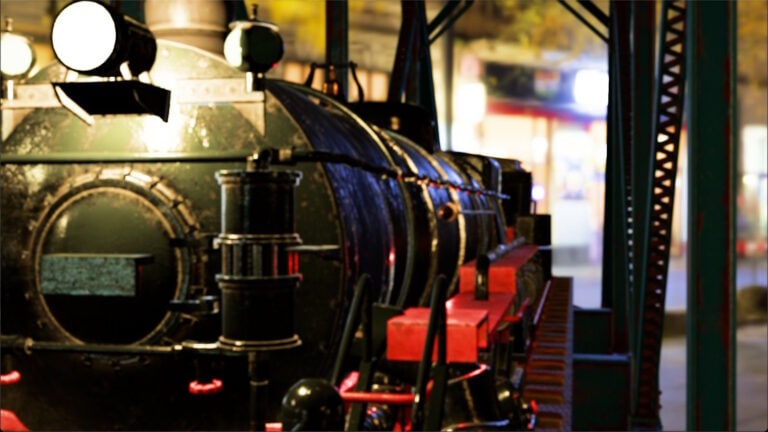 AMD FidelityFX Blur is an AMD RDNA™ architecture optimized collection of blur kernels from 3×3 up to 21×21.