Meet the Radeon™ GPU Profiler, a ground-breaking low-level optimization tool that provides detailed information on Radeon™ GPUs.
| DOWNLOAD - Latest version 1.8
This release adds the following:
Completely redesigned Radeon Developer Panel.
Many instruction timing improvements:

Full frame instruction timing data collection.
Improved accuracy of timing and hardware utilization data.
Improved support for RDNA wave32/wave64 modes.

Improved UI handling of running at different DPI display settings.
Support for running on Ubuntu 20.04.
Many bug/stability/usability fixes.
Unlike the black box approach of the past, PC game developers now have unprecedented, in-depth access to a GPU and can easily analyze graphics, async compute usage, event timing, pipeline stalls, barriers, bottlenecks, and other performance inefficiencies.
This unique tool generates easy to understand visualizations of how your DirectX®12, Vulkan®, and OpenCL™ applications interact with the GPU at the hardware level. Profiling a game is both a quick and simple process using the Radeon™ Developer Panel and our public GPU driver.
Get a bird's eye view of how your command buffers got submitted to each GPU queue.
Understand how your graphics, async compute, and copy workloads interact and synchronize.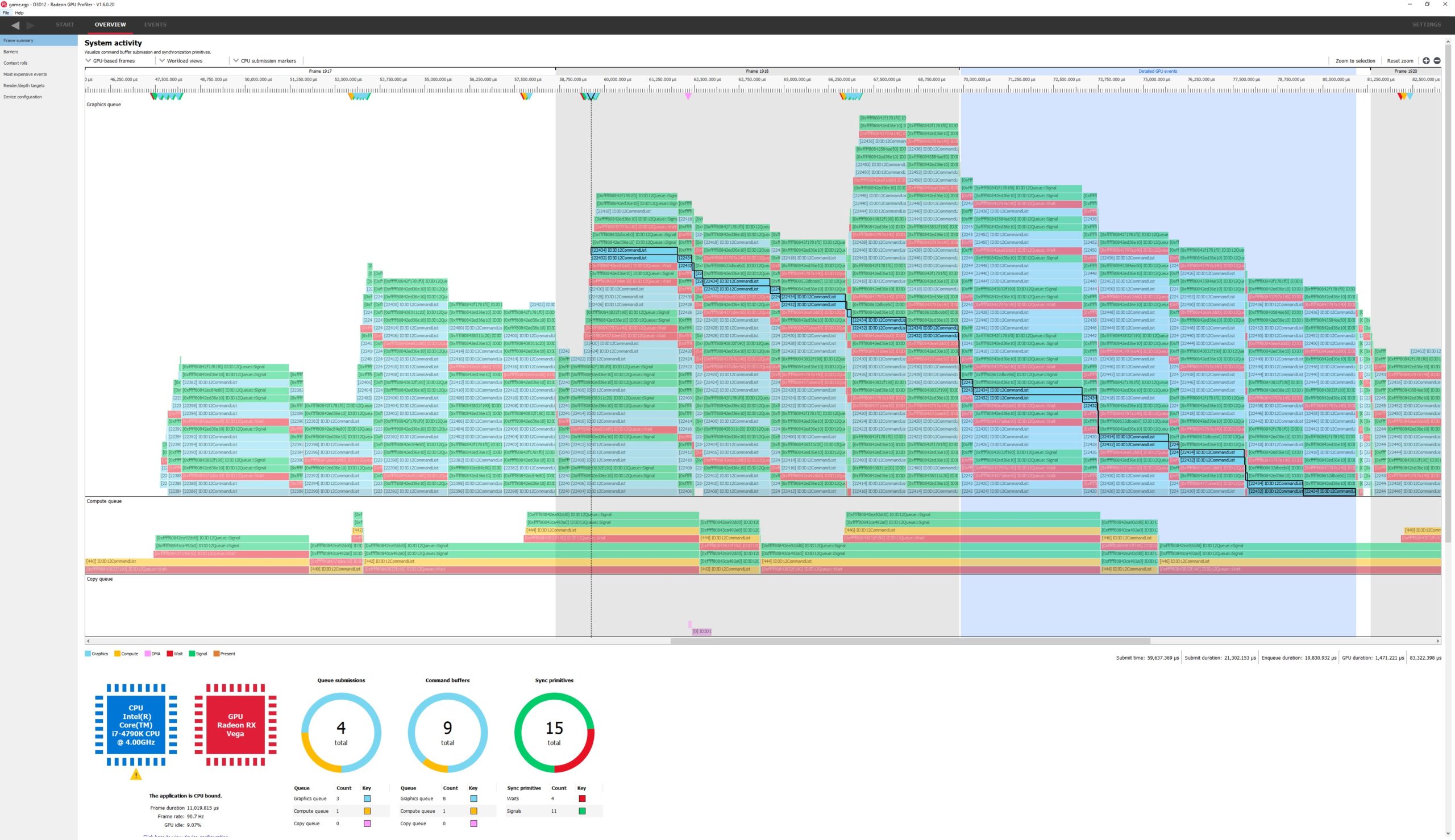 Wade through your wavefronts
Undestand how your wavefronts were pushed through the GPU. We can also correlate between wavefronts and the GPU events which launched them.
The data displayed in this view is highly filterable, groupable, and includes a side panel with added detail about user selections.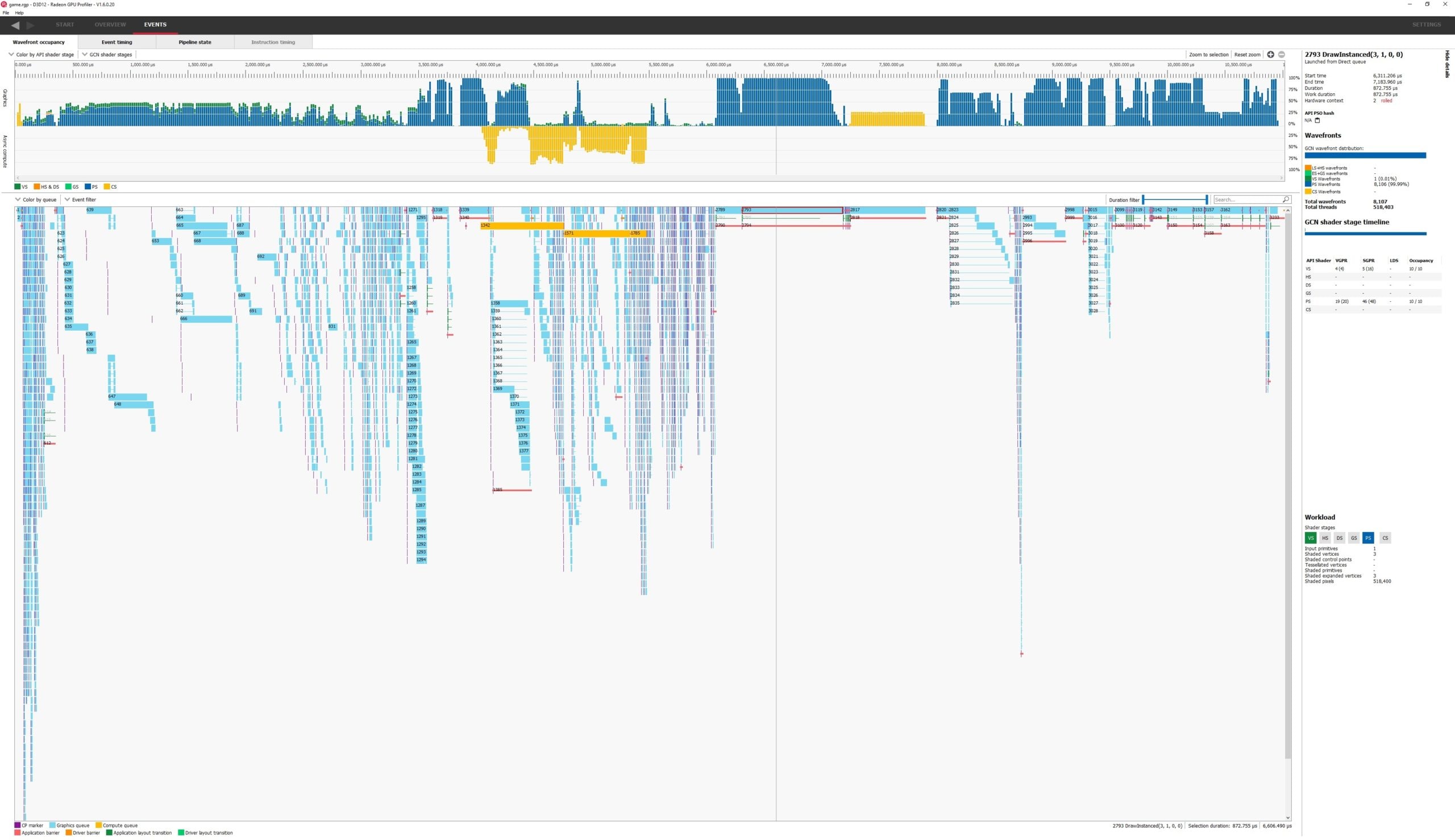 Quickly and easily find hotspots in your shaders using the instruction timing view.
Each instruction in your RDNA ISA has a bar showing its average latency, allowing you find the right things to optimize.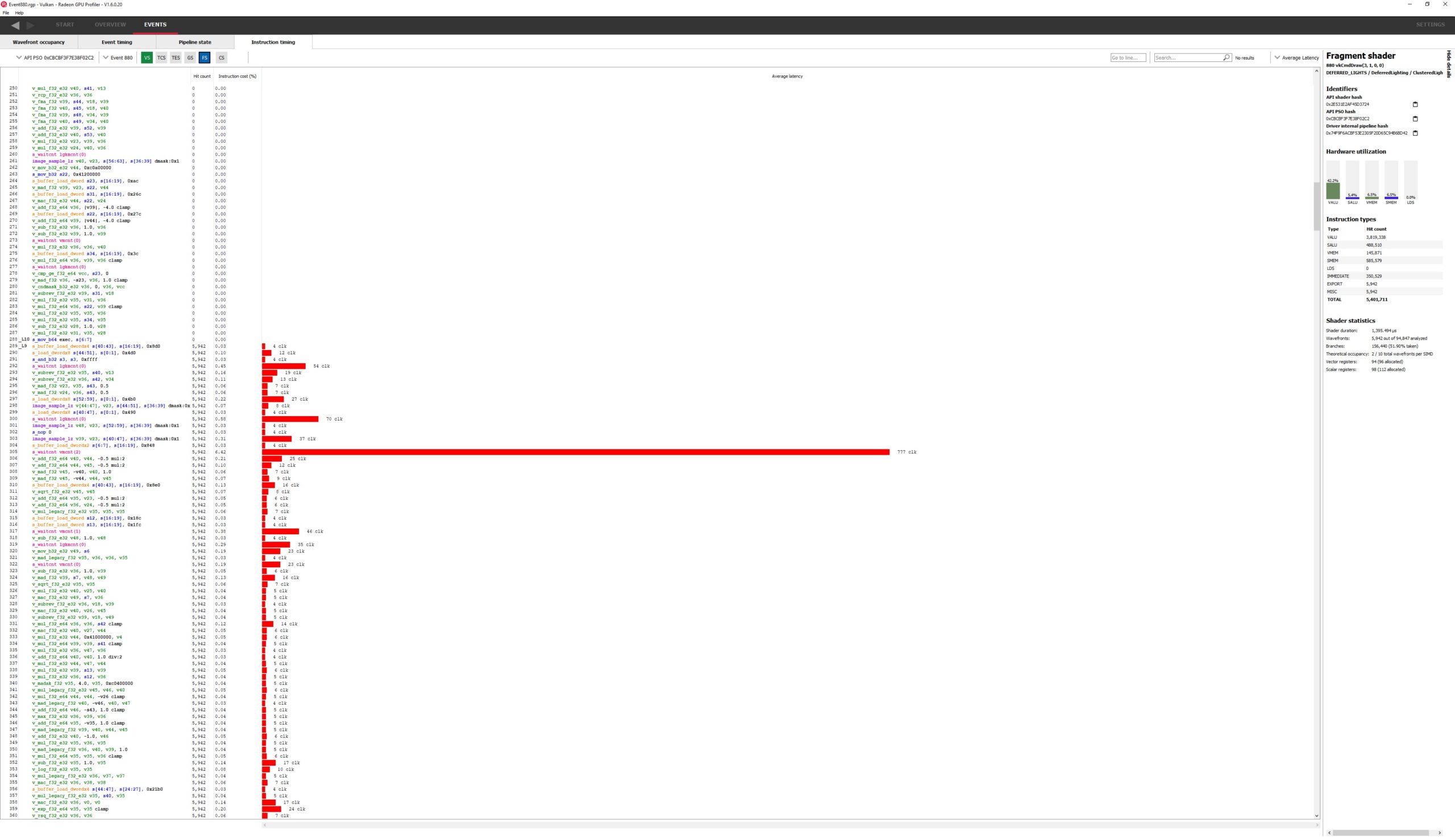 Find out which barriers flushed caches, caused a synchronization point or even ran their own, internal shaders.
Burst those pipeline bubbles and claim back your performance.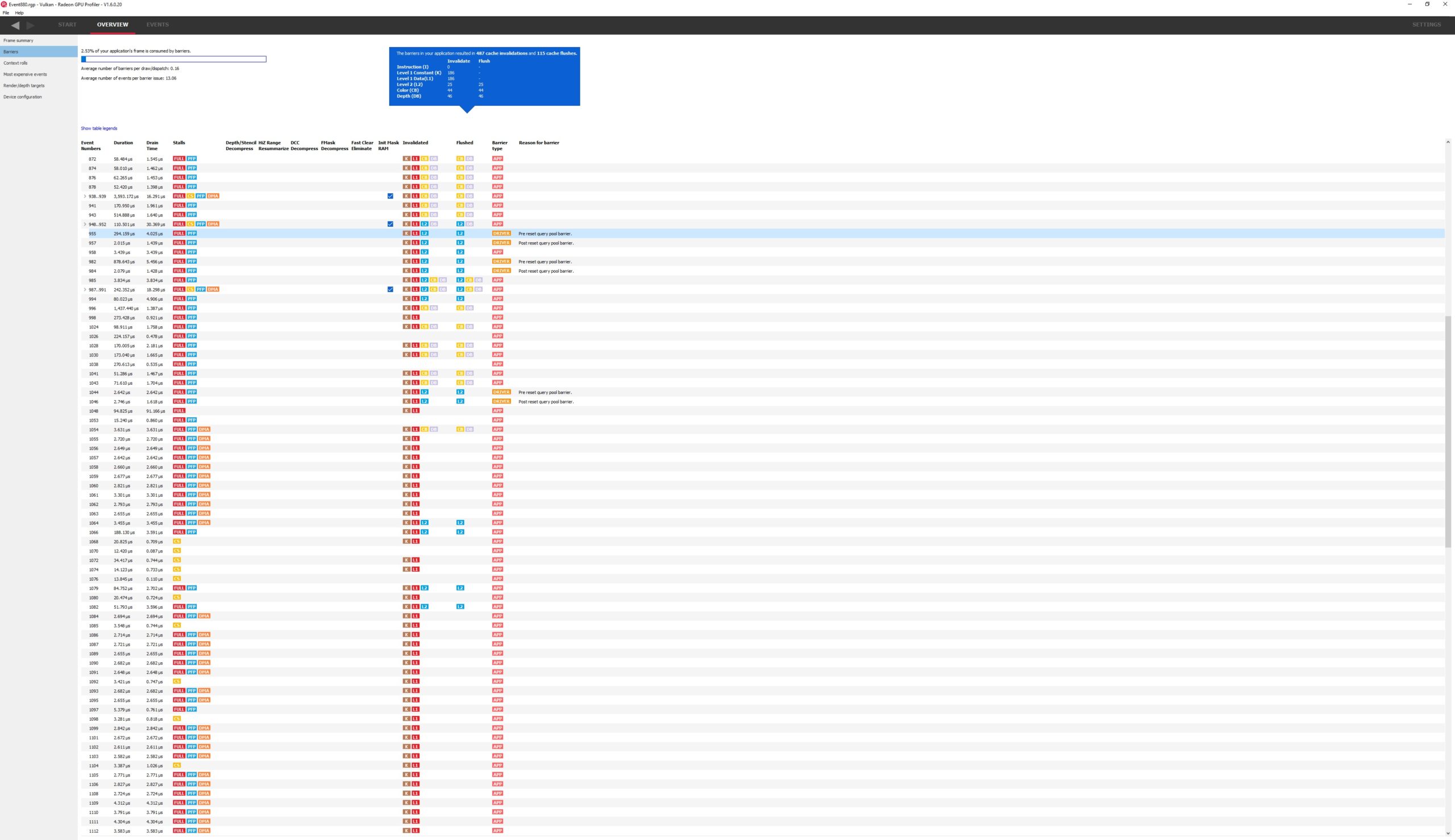 Supported GPUs
Radeon™ RX 5500 series and RX 5300 series
Radeon™ RX 5700 and RX™ 5700 XT
Radeon™ VII
Radeon™ RX Vega
Ryzen™ Processors with Radeon™ Vega Graphics
Radeon™ R9 Fury, Fury X and Fury Nano
Radeon™ RX 400 and RX 500 series
Supported graphics APIs
Supported compute APIs
Supported OSs
Windows® 10
Linux – Ubuntu 18.04.3 LTS
Linux – Ubuntu 20.04.1 LTS
| RELATED TO RADEON™ GPU PROFILER


Learn what a context roll on our GPUs is, how they apply to the pipeline and how they're managed, and what you can do to analyse them and find out if they're a limiting factor in the performance of your game or application.


Radeon™ Memory Visualizer (RMV) is a tool to allow you to gain a deep understanding of how your application uses memory for graphics resources.