The GPU Performance API (GPUPerfAPI, or GPA) is a powerful library, providing access to GPU Performance Counters. It can help analyze the performance and execution characteristics of applications using a Radeon™ GPU.
GPUPerfAPI is used by Radeon GPU Profiler, as well as several third-party tools including Microsoft PIX on Windows and RenderDoc.
Download the latest version - v3.15
This release adds the following features:
Updated equation for MemUnitBusyCycles.
Updated description of LocalVidMemBytes.
Reduced size of static buffer when logging messages to avoid compiler warning.
Fixed an issue on some variant hardware that would prevent enabling certain hardware counters.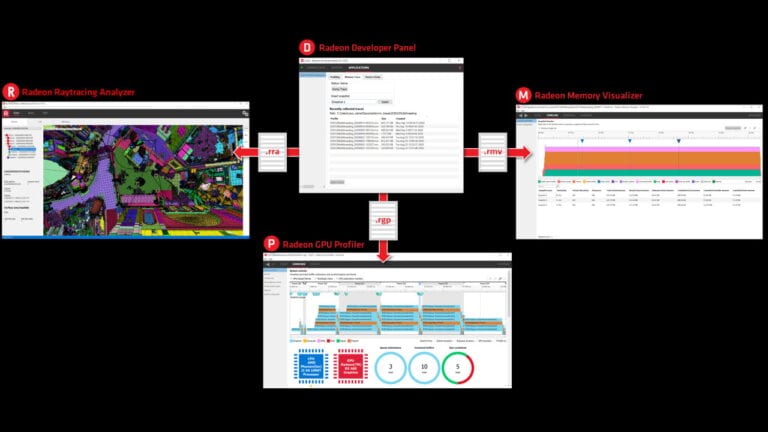 Read this high level summary of our updates to RDTS for RDNA™ 3, including other new features and improvements, plus updates to GPUPerfAPI.

GPUPerfAPI v3.7 brings support for Radeon™ RX 6000 series GPUs, new raytracing counters for DirectX® Raytracing, a new scalar and instruction cache counter, and new raytracing High-Frequency counters in Microsoft® PIX2.
Supported GPUs
Radeon™ RX 7000 series
Radeon™ RX 6000 series
Radeon™ RX 5500 series and RX 5300 series
Radeon™ RX 5700 and RX 5700 XT
Radeon™ VII
Radeon™ RX Vega
Ryzen™ 7000 Series with Radeon™ 700M Series Graphics
Ryzen™ RX 4600H with Radeon™ Vega Graphics
Ryzen™ 5 2400G and Ryzen™ 3 2200G Processors with Radeon™ Vega Graphics
Radeon™ R9 Fury, Fury X and Fury Nano
Radeon™ RX 400 and RX 500
Tonga R9 285, R9 380
Supported graphics APIs
DirectX

®

 12
Vulkan®
DirectX

®

 11
OpenGL®
Supported compute APIs
Supported OSs
Windows® 10
Windows® 11
Linux® – Ubuntu 18.04 LTS
Linux® – Ubuntu 20.04 LTS
Linux® – Ubuntu 22.04 LTS