A Complete Tool to Transform Your Desktop Appearance
In addition to our Display Output Post Processing (DOPP) technology, we also have a tool to change interactively the output of your desktop in several ways that can be very useful with various effects. Every developer can customize and add new effects for specific usages.
This tool can divide an SLS surface horizontally or vertically and rotate the respective portion 180°.  This has come up several times over the last year where multi-display users have purchased panels that have a narrow bezel or are bezeless on the left, right and top sides, and they want to invert the top row to create a near seamless surface.  With AMD Eyefinity technology and DOPP, we can handle this easily.  The image below helps to visualize the usage scenario for a landscape configuration.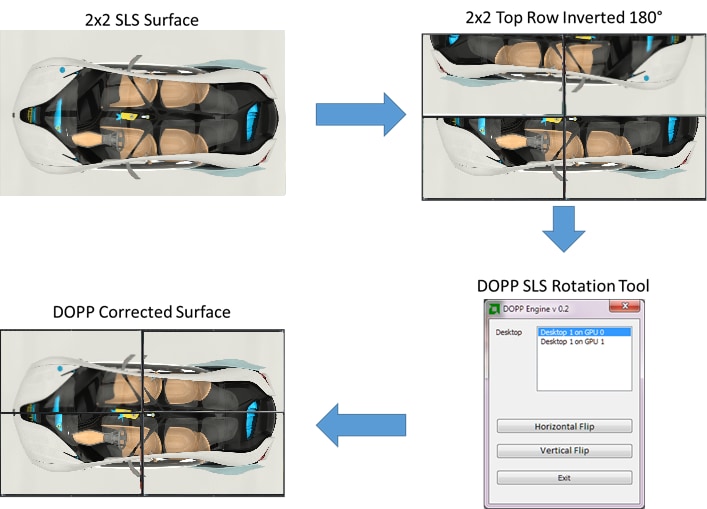 The following effects can be selected:
Eyefinity Landscape / Portrait
Invert Colors displays the desktop with inverted colors
Edge Filter uses an edge detection shader based on Laplacian edge detection to highlight the edges on the screen
Distort applies a shader that dynamically distorts the captured screen
Rotate lets you select an angle by which the desktop gets rotated
Feel free to improve the tool with more advanced effects.

This sample shows how to enable Framelock in an application using the WGL_NV_swap_group extension.