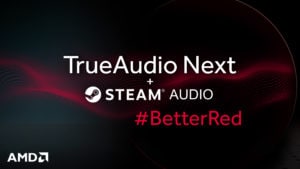 The long wait is over. The GPU processing power of TrueAudio Next (TAN) has now been integrated into Steam Audio from Valve (Beta 13 release). Steam Audio is that groundbreaking physics-based audio rendering library that made a big splash with the game sound community at GDC17. With TrueAudio Next we've provided sound designers the ability to unleash the vivid audio rendering capability of Steam Audio by greatly accelerating real-time audio convolution by up to 7x, using TAN's latest OpenCL libraries running on Radeon™ GPUs with AMD Resource Reservation.
Steam Audio supports TrueAudio Next on its integrations for Unity Native, Unity with FMOD Integration, Unreal Engine 4.20 developer branch, and Steam Audio's C API for integration into custom audio engines.
TAN acceleration gives sound designers the choice to render many more sound sources with high resolution physics, or bump up to higher-order Ambisonics for greater soundfield resolution, or enable that huge 5 second impulse response you've always wanted for all those cave sounds, but couldn't afford on CPU. TrueAudio Next can improve audio in scenes created with either baked or realtime physics in Steam Audio, because both require time-varying convolution, something TrueAudio Next happens to be very good at. AMD Resource Reservation provides safe, predictable performance for both TAN audio and graphics that share the GPU. Finally, Steam Audio with TAN support includes an easy dual-menu path to support a baseline audio physics experience on platforms without TAN-supported GPUs, while seamlessly turning up the juice (max number of sources, Ambisonics order, and/or impulse response length) when the engine detects that TrueAudio Next is present. No need for two different sound designs or versions. TAN usage can be selected or deselected on a scene-by-scene basis (but why not use it all the time?).
The TAN version used in Steam Audio has our latest OpenCL multi-core optimizations for better convolution performance with the lowest possible latency impact to the main audio rendering loop (using just 4 compute units, up to 7x lower than CPU). Steam Audio is able to leverage the TAN library's batch convolution method to maximize GPU utilization. The optimizations used in this TAN version will be posted in an upcoming TAN update on GPUOpen.
And we're not done. Watch for even more optimizations in upcoming releases.
We're very pleased to see the release of AMD TrueAudio Next support within Steam Audio. There couldn't be a better match between the performance benefits of TrueAudio Next and the groundbreaking, vivid sound enabled by Steam Audio, which will make these benefits easily accessible to sound designers and ultimately, end users. Try it out and let us know how it goes! For more information, see Valve's blog.