CodeXL
CodeXL is a comprehensive tool suite that enables developers to harness the benefits of GPUs and APUs. CodeXL is available as a standalone user interface application for both Windows® and Linux®. It includes:
Powerful combined Host + GPU debugging
Comprehensive GPU profiling
Static OpenCL™, OpenGL®, Vulkan® and DirectX® kernel/shader analysis capabilities
The CodeXL source code and released binary installers are available on the GitHub links below.
Combined Host and GPU Debugging
Combine  C/C++ debugging with comprehensive GPU debugging of OpenCL & OpenGL API calls. Peek into compute and graphic memory objects, monitor their contents, and detect memory leaks and code paths that caused it.
GPU Profiling
Collect and visualize GPU counter data, application trace, kernel occupancy and hotspots analysis for AMD APUs and GPUs. The profiler gathers data from the OpenCL™ and HSA run-time and AMD Radeon™ GPUs during the execution of an OpenCL™ or HSA application. This can be used to discover bottlenecks in an application and find ways to optimize the application's performance for AMD platforms.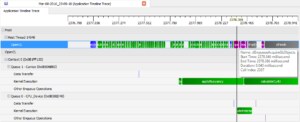 Static Shader Analysis
Compile and analyze the code of DirectX, OpenGL and Vulkan shaders, and OpenCL kernels.
Build offline regardless of the actual GPU hardware
View ISA disassembly
View GPU resource usage – quantity of consumed memory and scalar/vector registers
Performance advisory board
Generate binaries for shader pipelines and kernels
All without running the actual application!
Local and Remote Operation
CodeXL can run debug/profile/analysis sessions on the local station or communicate over the network with its remote agent for debugging/profiling on a remote target machine.
Download
The latest CodeXL release is here: CodeXL 2.6. For earlier releases see the releases section.
Note: Support for pre-GCN GPUs has been discontinued in the latest releases and is available only in the legacy AMD CodeXL 1.9 release.
Technical Blogs
GPUOpen technical blogs about CodeXL
---
Resources