Read about the latest developments with our physically-based path-traced rendering engine, Radeon ProRender
We announced support for hardware-accelerated ray tracing in the Radeon™ ProRender 2 SDK for AMD Radeon™ RX 6000 Series Graphics Cards late last year.
Since then, we've added some more new features in the SDK. As some of these are features that we did not implement in Radeon ProRender 1, this is the first time they'll be in the Radeon ProRender SDK.
Cryptomatte
The first new feature is the support of Cryptomatte, which is the industry standard format for scene ID mattes. Cryptomatte makes it easier to adjust a rendered image after rendering is done. The strength of Cryptomatte is that users can generate a matte with any combination of objects even if the objects have motion blur, transparency, or are overlapping each other.
Fig. 1 below is an example of a scene rendered in Cryptomatte, and the final render.
Light group AOVs
We've also added another feature that is useful for compositing. Light group AOVs let you separate the different lights in a scene into multiple AOVs rather than putting them together in a single AOV. This is a very useful feature because you can adjust the light for each layer separately without breaking the physics of the light.
For example, you can render a scene with an environment light coming through a window into a room where there are also some ceiling lights illuminating the room. You can then easily adjust intensity of these lights to make, for example, a scene in the daytime or in the evening as you can see in Fig. 2 below.
Deformation motion blur
Up until now, we've only supported transformation motion blur which is not enough to show real-life movement – there are a lot of interesting movements that need blur, such as the organic movement of the human body or cloth deformations.
You can see one example in Fig. 3 below where the flag is deformed and blurred using by the physically based dynamics that we see in real life. This kind of deformation motion blur can now be rendered in Radeon ProRender.
Homogeneous volume support
So far in Radeon ProRender 2 we've only been focusing on properly implementing the basics of the renderer, meaning we have only been focusing on light transport on surfaces. The engine has now come to a point where we are confident enough to add more components to the renderer.
Therefore, we've finally added homogeneous volume support in the Radeon ProRender 2 SDK. Now you can render a model with sub-surface scattering, where the collision and absorption of light in an object filled with a media is simulated, as you can see in Fig. 4 below. This is a great solution for rendering realistic skin, light shafts, underwater scenes, and so on.
Toon material
The last exciting feature added to the SDK that I'd like to announce is the "toon" material. Our toon material can co-exist with realistic physically-based materials, which makes it possible to render very interesting images as you can see in Fig. 5.
If you look the image below carefully, some of the metallic and transparent parts are using realistic physically based materials and others are using the toon material. Our toon material also supports textures that let you make very interesting images with the sharpness of the color transition. This new feature works very well with the edge extraction/contour AOV feature we added last year.
That's all for this update. We are currently working on some other exciting features right now and I cannot wait to talk to you next time about these in our next update of the Radeon ProRender SDK.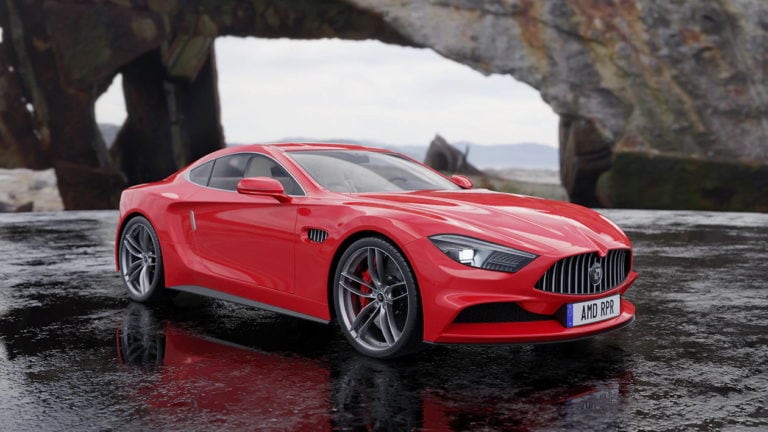 With specific hardware acceleration features implemented, content creators can accelerate their rendering using AMD Radeon™ RX 6000 Series graphics cards with Radeon™ ProRender 2.0.
© 2021 Advanced Micro Devices, Inc. All rights reserved. AMD, the AMD Arrow logo, Radeon, RDNA, Ryzen, and combinations thereof are trademarks of Advanced Micro Devices, Inc. ACCA and the ACCA logo are registered trademarks of ACCA software in Italy and/or other countries.  Render Pool is a trademark of Morgenrot Inc. Other product names used in this publication are for identification purposes only and may be trademarks of their respective companies.