Read about the latest updates to our Blender® add-on, Autodesk® Maya® plug-in, and the SideFX® Houdini™ (USD) plug-in
Earlier this year, we released a new version of the AMD Radeon™ ProRender 2 SDK on GPUOpen. This exciting release added many new features such as Cryptomatte AOVs, Deformation Motion Blur, Subsurface Scattering, and more.
Now we are updating select Radeon ProRender plug-ins incorporating the latest Radeon ProRender SDK and more. We have included updates for our Blender® add-on, Autodesk® Maya® plug-in, and the SideFX® Houdini™ (USD) plug-in.
Here are a few highlights of the new features:
New version support
Support is included for the recently released Blender 2.93, Maya 2022, and USD version 21.05.
Deformation motion blur
Previous versions of Radeon ProRender could motion blur lights, camera, and objects that were rotating or moving. However, this could not capture complex shape changes in motion blur, such as a ball being squashed on the ground or a flag waving in the wind. With the addition of deformation motion blur, these effects are now possible.
Viewport denoising and upscaling
Upscaling technologies like the recently announced AMD FidelityFX Super Resolution (FSR), allow games to render at a lower resolution (for higher framerates) and then upscale to a higher resolution. This is the same idea behind Viewport rendering in content creation applications!  Using the "Upscaling" filter from the Radeon™ Image Filtering SDK, we can now render at half the resolution, denoise, and then upscale to obtain the original resolution in the final image. This can be enabled in the plug-ins in the Viewport settings.
Toon style shading
Radeon ProRender is a physically based path tracer, focused on rendering materials accurately. However, in some artistic instances, it is desirable to break from the real world and do stylized materials instead. One example of this is with toon shading. Artists can now use the "RPR Toon Shader" node to create interesting looks.
Subsurface scattering, refraction absorption, and volume shaders
Many complex materials allow light to enter them and scatter internally. Imagine a waxy candle, skin, or cloudy glass. With Radeon ProRender 2, we now support these features for creating organic or light-absorbing materials.
Updated plug-ins available now
The updated plug-ins for are available on our Radeon ProRender GitHub pages: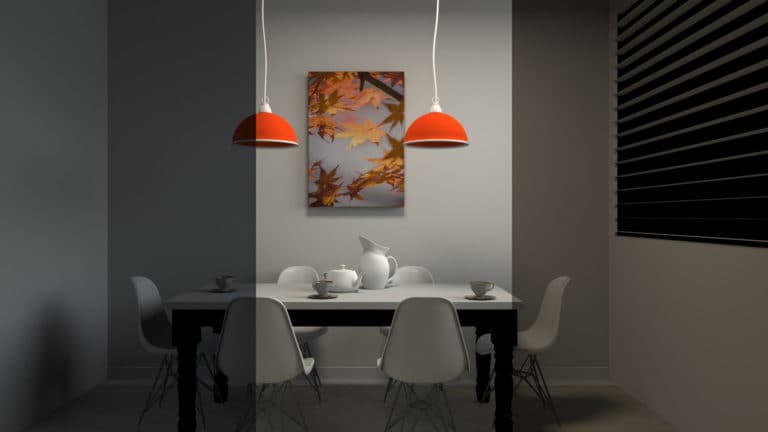 Read about Cryptomatte support, light group AOVs, deformation motion blur, homogeneous volume support, and our toon material in Radeon™ ProRender.
© 2021 Advanced Micro Devices, Inc. All rights reserved. AMD, the AMD Arrow logo, Radeon, and combinations thereof are trademarks of Advanced Micro Devices, Inc. Autodesk, the Autodesk logo, and Maya are registered trademarks or trademarks of Autodesk, Inc., and/or its subsidiaries and/or affiliates in the USA and/or other countries. Blender is a registered trademark of the Blender Foundation in EU and USA. Houdini, the Houdini logo, and SideFX are registered trademarks or trademarks of Side Effects Software Inc. registered in the USA and other countries. Other product names used in this publication are for identification purposes only and may be trademarks of their respective companies.