Introduction to profiling tools for AMD hardware
Getting a code to be functionally correct is not always enough. In many industries, it is also required that applications and their complex software stack run as efficiently as possible to meet operational demands. This is particularly challenging as hardware continues to evolve over time, and as a result codes may require further tuning. In practice, many application developers construct benchmarks, which are carefully designed to measure the performance, such as execution time, of a particular code within an operational-like setting. In other words: a good benchmark should be representative of the real work that needs to be done. These benchmarks are useful in that they provide insight into the characteristics of the application, and enables one to discover potential bottlenecks that could result in performance degradation during operational settings.
At face value, benchmarking sounds simple enough and is often interpreted as simply a comparison of execution time on a variety of difference machines. However, in order to extract the most performance from emerging hardware, the program must be tuned many times and requires more than measuring raw execution time: one needs to know where the program is spending most of its time and whether further improvements can be made. Heterogenous systems, where programs run on both CPUs and GPUs, introduce additional complexities. Understanding the critical path and kernel execution is all the more important. Thus, performance tuning is a necessary component in the benchmarking process.
With AMD's profiling tools, developers are able to gain important insight into how efficiently their application is utilizing hardware and effectively diagnose potential bottlenecks contributing to poor performance. Developers targeting AMD GPUs have multiple tools available depending on their specific profiling needs. This post serves as an introduction to the various profiling tools offered by AMD and why a developer might leverage one over the other. This post covers everything from low level profiling tools to extensive profiling suites.
In this introductory blog, we briefly describe the following tools that can aid in application analysis:
Terminology
The following terms are used in this blog post:
| Term | Description |
| --- | --- |
| | AMD's x86-64 processor core architecture design. Used by the AMD EPYC™, AMD Ryzen™, AMD Ryzen™ PRO, and AMD Threadripper™ PRO processor series. |
| | AMD's Traditional GPU architecture optimized for graphically demanding workloads like gaming and visualization. Includes the RX 5000, 6000 and 7000 GPUs. |
| | AMD's Compute dedicated GPU architecture optimized for accelerating HPC, ML/AI, and data center type workloads. Includes the AMD Instinct™ MI50/60, MI100, and MI200 series accelerators. |
| | AMD's pre-CDNA™/RDNA™ GPU architecture |
| | A C++ Runtime API and kernel language that allows developers to create portable compute kernels/applications for AMD and NVIDIA GPUs from a single source code |
| Timeline Trace | A profiling approach where durations of compute kernels and data transfers between devices are collected and visualized |
| | Hardware agnostic methodology for quantifying a workload's ability to saturate the given compute architecture in terms of floating-point compute and memory bandwidth |
| Hardware Counters | Individual metrics which track how many times a certain event occurs in the hardware, such as bytes moved from L2 cache or a 32 bit floating point add performed |
What tools to use?
The first step in profiling is determining the right tool for the job. Whether one wants to collect traces on the CPU, GPU, or both, understand kernel behavior, or assess memory access patterns, performing such an analysis might appear daunting for new users of AMD hardware. We begin by identifying the architecture and operating systems supported by each of the profiling tools provided by AMD. Almost all the tools in Table 1 support Linux® distros and with the gaining popularity of Instinct™ GPUs, every tool has some capability to profile codes running on CDNA™ architecture. However, those who prefer Windows will be limited to using AMD uProf to profile CPU and GPU codes targeting AMD "Zen"-based processors and AMD Instinct™ GPUs, and Radeon™ GPU Profiler that can provide great insights to optimize applications' use of the graphics pipeline (rasterization, shaders, etc.) on RDNA™-based GPUs.
| AMD Profiling Tools | AMD "Zen" Core | RDNA™ | CDNA™ | Windows | Linux® |
| --- | --- | --- | --- | --- | --- |
| ROC-profiler | Not supported | ☆ | ★ | Not supported | ★ |
| Omniperf | Not supported | Not supported | ★ | Not supported | ★ |
| Omnitrace | ★ | ☆ | ★ | Not supported | ★ |
| Radeon™ GPU Profiler | Not supported | ★ | ☆ | ★ | ☆ |
| AMD uProf | ★ | Not supported | ☆ | ★ | ☆ |
★ Full support | ☆ Partial support
Table 1: Profiler/architecture support and operating system needs.
The final choice of the tool on any platform depends on the profiling objective and the kind of analysis required. To make it simpler, we encourage the users to think of their objectives in terms of three questions as depicted in the flow diagram in Figure 1:
Where should I focus my time? : Whether benchmarking a new application, or getting started with a new software package that has not yet been profiled, it is recommended to first identify hotspots in the application that may benefit from quick optimization. In such a scenario, it is best if users start by collecting timelines and traces of their application. On Linux® platforms, Omnitrace enables the collection of CPU and GPU traces, and call stack samples to help identify major hotspots. However, on Windows, one may have to choose between AMD uProf and Radeon™ GPU Profiler depending on the targeted architecture.

How well am I using the hardware?: The first step is to obtain a characterization of workloads that can provide a glimpse into how well the hardware is being utilized. For example, identifying what parts of your application are memory or compute bound. This can be accomplished through roofline profiling. Typically, hotspots are well understood and interest is usually in identifying the performance of a few key kernels or subroutines. At present, roofline profiling is only available through Omniperf on AMD Instinct™ GPUs and AMD uProf on AMD "Zen"-based processors.

Why am I seeing this performance?: Once hotspots are identified and the initial assessment of performance on a particular hardware is completed, the next phase likely involves profiling and collecting the hardware metrics to understand where the observed performance is coming from. On AMD GPUs, tools such as Omnitrace, Omniperf and AMD uProf interface with the low-level ROC-profiler API and/or uses rocprof under-the-hood to gather GPU metrics. We do not recommend using rocprof directly because of the extra overhead in dealing with text/CSV files and hardware-specific metrics unless there is a specific need. On Windows systems, one will have to rely on using either AMD uProf or Radeon™ GPU Profiler.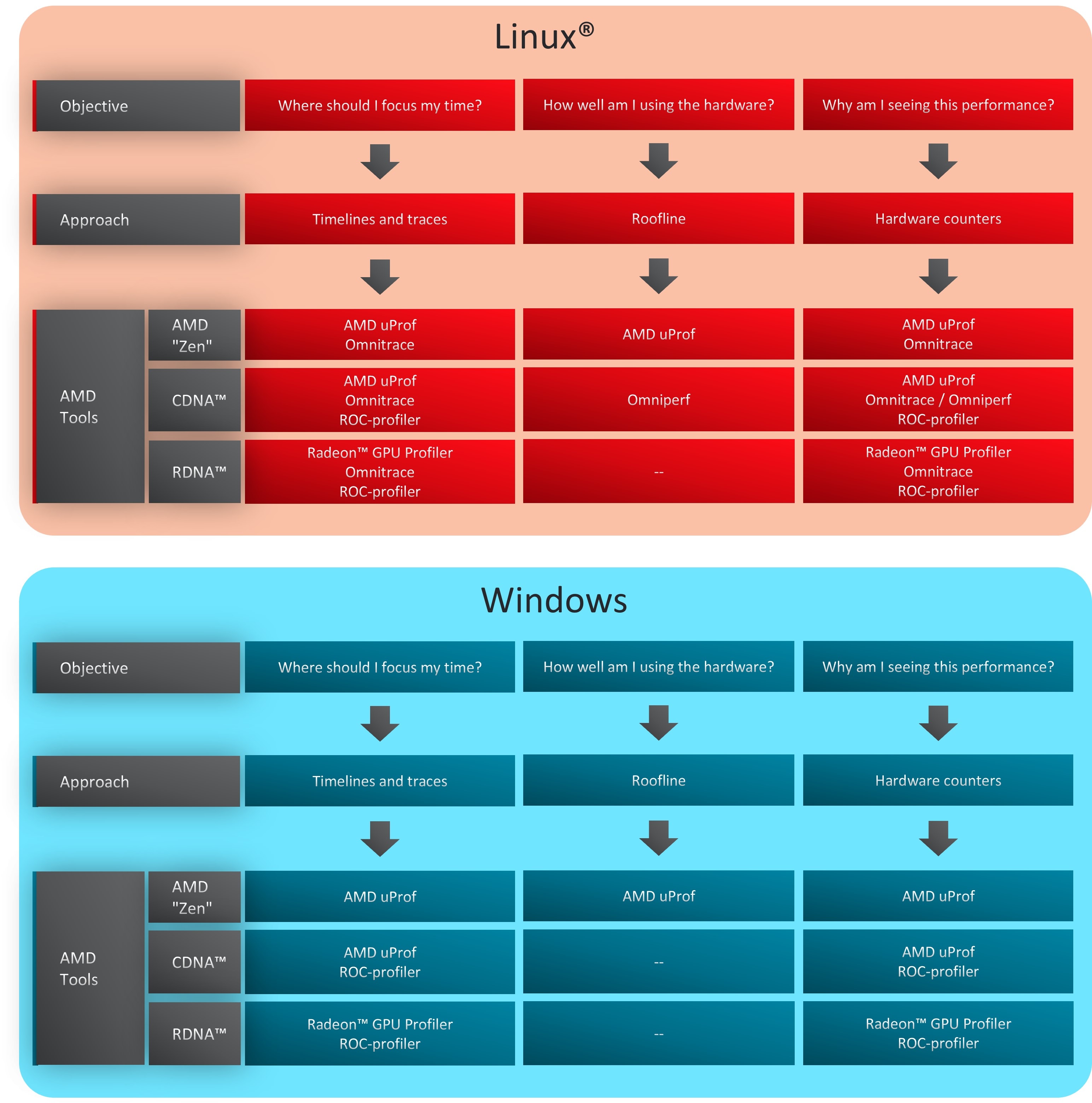 Figure 1: Use cases for a variety of AMD profiling tools.
---
Overview of profiling tools
In this section, we provide a brief overview of the above-mentioned AMD tools and some third-party toolkits.
Next time
Stay tuned as we release further posts in this series diving into the details of setting up and utilizing these available tools. Complete with examples!
If you have any questions or comments, please reach out to us on GitHub Discussions